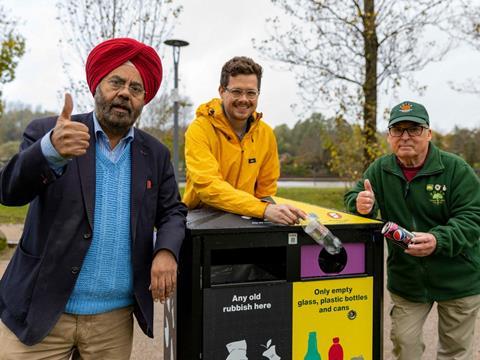 Hubbub and McDonald's are launching a new #InTheLoop grant fund to support two new projects in the introduction or improvement of their recycling infrastructure, hoping to help local authorities and other organisations implement the facilities for recycling in public spaces.
McDonald's is set to provide £8,000 in funding to two successful candidates to contribute towards anti-litter and recycling facilities, while Hubbub will continue to support the organisations with project management and design, amongst other practicalities.
The #InTheLoop toolkit, funded by Ecosurety, is expected to assist organisations to roll out a successful recycling on-the-go campaign, which in turn is hoped to divert waste away from landfill and incineration and into recycling streams.
#InTheLoop was first trialled in 2018 in Leeds, England, with similar pilots running in Swansea, Edinburgh, Dublin, Wimbledon, Lambeth, and Telford and Wrekin in subsequent years. These projects saw the introduction of over 500 brightly-coloured bins to public environments in the hopes of attracting consumers to recycle empty glass, plastic bottles, cans, and sometimes coffee cups – thought to have resulted in the collection and recycling of over 2.5 million pieces of packaging waste.
"Recycling on the go continues to be a significant challenge, with less than half of local authorities currently having on-street recycling systems," said Gavin Ellis, co-founder of Hubbub. "Previous #InTheLoop trials have helped us define an effective approach to out of home recycling, so we're delighted that additional funding from McDonald's will enable two more organisations to trial #InTheLoop interventions in their area to help address littering, boost recycling rates and reduce waste sent to landfill or incineration."
"We're delighted to be funding this piece of work," continued Helen McFarlane, senior sustainability consultant for McDonald's. "McDonald's has been working with Hubbub on their innovative #InTheLoop campaigns for over five years now, and we're excited that this project builds on all the success we've had over the years. We hope that by providing funding to roll out #InTheLoop we can have a lasting impact in the communities we serve."
Applications are open to local authorities, business improvement districts, shopping centres, major property owners, transport hubs, and more, with 17th March 2023 announced as the deadline.
Hubbub and Starbucks recently announced the winners of their Bring it Back fund, which assisted six new systems and solutions for sustainable packaging in the food and beverage industries.
McDonald's was also one of four companies to join Stora Enso and Huhtamaki's Cup Collective initiative in the hopes of increasing the volume of paper cups recycled in Europe.