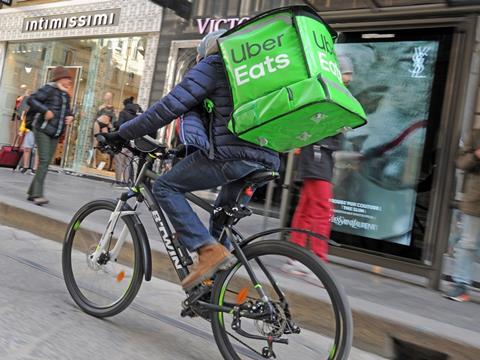 Uber and Visa are joining forces in a new programme designed to support qualifying small-to-medium-sized Uber Eats restaurants in their transitions towards sustainable packaging solutions with a $1 million fund.
While the initiative is being launched in Davos, Switzerland, the $1 million will eventually be available to restaurants utilising Uber Eats in London, Paris, Madrid, New York, and Los Angeles in the hopes of enabling a greater shift into sustainable packaging for the hospitality sector.
The announcement comes in light of a study conducted by the US National Restaurant Association in 2022, which suggests that ongoing supply chain issues faced by the hospitality industry and the cost of switching to sustainable packaging are causes of concern for restaurants that would otherwise prioritise environmentally friendly business practices. Uber Eats and Visa hope that the programme will help to bridge the gap, with details about restaurants' eligibility and how to apply for funding set to be shared on the Uber Eats for Merchants website in the coming months.
"Building on the success of our shared support for small and medium-sized businesses, I'm very happy to be turning our efforts with Visa towards how we can help restaurant owners reduce packaging waste and contribute to the fight against climate change," says Pierre-Dmitri Gore-Coty, SVP and global head of Delivery for Uber. "Single-use packaging is used in nearly every takeout order worldwide—with Visa and our restaurant partners we can work towards reducing waste and helping small businesses thrive."
"With consumers continuing to express desires to live more sustainably, businesses across sectors have a notable opportunity to adopt more sustainable practices to meet this demand," adds Douglas Sabo, chief sustainability officer at Visa Inc. "Visa is excited to expand on our partnership with Uber Eats to help small businesses to not be left out of the sustainable business transformations this moment requires."
A similar initiative from Deliveroo aimed to save over 400 tonnes of single-use plastic from landfill by providing its partners with a 50% subsidy on the cost of sustainable packaging.
DoorDash has also announced its new Package Pickup service to assist consumers in returning prepaid packages to the relevant shipping companies.