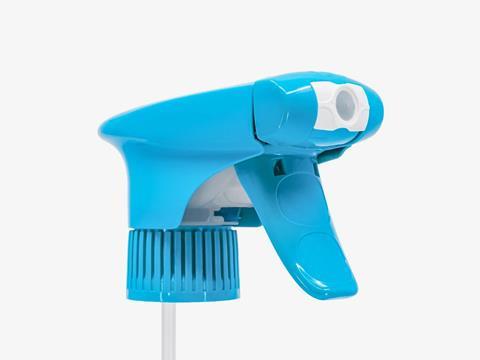 Caps & Closures has revealed EzySpray Boost, a pre-compression trigger made using 100% PP and up to 50% recycled content; it aims to provide an easily recyclable option for sprayable product packaging.
The entire trigger pump, including its spring, is made from plastic, which intends to streamline its recyclability. It is certified recyclable with PET bottles and 98% with PP alternatives, and it aims to lessen demand for new plastic and lower its environmental impact by incorporating up to 50% recycled content.
With its on/off indication feature, non-drip dispensing, and a design for good grip, it hopes to provide pleasant experience for users. A removable screw closure option is available for refillable packaging.
The colour, printing, and laser engraving of the nozzle and lever can also be customised for branding opportunities. Caps & Closures states that the solution offers a 60% improvement in output.
NUXE has recently applied Aptar Beauty's 'twist-to-lock' PP spray pump to its sun spray and tanning oil products – aspiring to bring together sustainability and visual appeal.
Berry Global's removable, 97%+ PP trigger sprayer for refillable packaging is also said to contain 29% post-consumer recycled plastic. It offers an 18% reduction in weight compared to the current market standard, the company suggests.
If you liked this article, you might also enjoy:
The Lidl approach to packaging sustainability
How did Brazil achieve its 100% aluminium can recycling rate – and can it be replicated in the EU?
Experts have their say on the EU's Packaging and Packaging Waste Directive revisions
A deep dive into the most important packaging sustainability trends and solutions