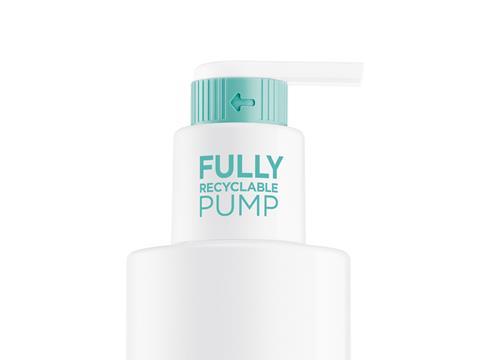 We caught up with Aptar to learn more about its recyclable, monomaterial Future pump, which is a finalist in the E-commerce category of our 2022 Sustainability Awards.
You're a finalist in the Sustainability Awards 2022. Congratulations! To start off, could you summarise your entry in fewer than 50 words?
Future pump combines eco-design principles with cutting-edge innovation: monomaterial PE, fully recyclable, and e-commerce ISTA6-compliant.
An easy-to-use pump featuring an incorporated on/off locking system with a 360°-degree rotator, available in two dosages and neck sizes, suitable for a large range of viscosities and PCR FDA capable.
Why do you think the judges were impressed with your entry? Tell us about what is innovative about your project and/or about its impact on packaging sustainability.
Future pump answers the packaging dichotomy, to meet both sustainability and robustness for e-commerce compliance without an additional piece (e-commerce clip or sleeve), while reducing the impact of the CO2, and integrating the fully recyclable system into the circular economy.
This modern incorporated system renders Future compliant with the rigorous ISTA 6-Amazon protocol, consisting of more than 15 stress tests (vibration, choc, leakage, etc) that challenge the capability of the package and product to withstand transport hazards.
Future's ISTA 6 compliance ensures that the pump withstands the risks associated with transport and distribution network pressures, as well as necessitating less protective carton and paper packaging.
How has your innovation/initiative been received thus far?
Future pump has been very well received by our customers who really like its innovative features. They also appreciated the new end consumer-motivated gesture to twist the ring (instead of the actuator) to lock and unlock the pump, as it has been thought to integrate e-commerce capability in the design of the pump itself. We have already sold the pump to several customers, and it is already available on-shelf with the Dermalogica brand. Dermalogica has integrated this innovative Aptar solution for its cleansing range – Special Cleansing Gel, UltraCalming Cleanser, and Clearing Skin Wash.
The Future pump was also finalist of the Plastics Recycling Awards 2022.
You're shortlisted for the E-commerce category. What do you see as the key demands, challenges and opportunities in relation to e-commerce sustainability in packaging?
Both e-commerce and sustainability trends have been reinforced by the sanitizing crisis. They are now two essential features for our customers, and we need to be in line with these trends to meet our customers' needs.
The main challenge is to combine e-commerce capability with the strong robustness of our products and sustainability with a lighter weight, recycled and/or recyclable resin and less plastic. With Future, we managed to integrate both aspects in the design of the pump: no e-commerce clip or sleeve is needed, and the pump is fully recyclable.
The winners of this Sustainability Awards category will be announced at a dinner taking place at the Sustainable Packaging Summit in Lisbon on 13th-14th September 2022. To attend the ceremony, register here.