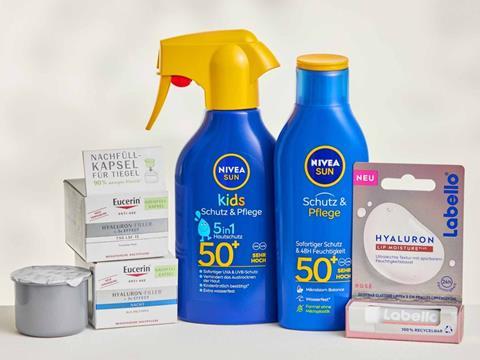 Beiersdorf is furthering its efforts to reduce 30% of CO2 emissions by 2025 through packaging redesigns – bringing its Eucerin refill jar to market and implementing 50% recycled material into the caps and pumps of its NIVEA Sun and Lip Care packs.
Corresponding with alterations in the formulas of the whole NIVEA Sun range, the blue caps and yellow trigger pumps of its Protect & Moisture product are set to incorporate 50% recycled material and bring Beiersdorf closer to its goal of halving its use of fossil-based virgin plastic by 2025. It will be available on the market this season, the company reports.
It also claims that alterations to its NIVEA Lip Care assortment – the optimisation of its production lines; a reduction in energy consumption during the production process; the replacement of its plastic blister pack with a plastic-free folding box, apparently made from recycled and FSC-compliant paper; and the lowering of CO2 emissions during transportation – are saving 250t of CO2 emissions every year.
The introduction of a new stick made of mono-polypropylene also claims to be a fully recyclable solution, with a new range scheduled to reach the German market in September said to comprise 99% natural ingredients and ethically sourced shea butter while remaining free of mineral oils.
Regarding its Eucerin brand, the Hyaluron Filler Day and Night Cream product has been repackaged with a new refill concept said to utilise only 8g of plastic, rather than the standard 89g. Beiersdorf states that this saves approximately 90% of plastic when consumers purchase the inner jar as a refill and reuse the outer jar and lid.
Additionally, this solution is hoped to save around 24t of plastic annually. Its own folding box also utilises somewhere around 92% of recycled paper, according to the company.
From the base year of 2018, Beiersdorf is working towards a 30% absolute reduction in scope 1, 2, and 3 CO2 emissions across its entire value chain by 2025 in accordance with its CARE BEYOND SKIN Sustainability Agenda.
"At Eucerin we work continuously to combine the highest level of product efficacy with a minimum impact on the environment," says Wiebke Maerker-Scheel, global associate director of Sustainability at Derma. "Due to the enormous plastic savings, our Eucerin refill jar represents a milestone in our ambitious sustainability journey. It significantly contributes to our targets to reduce plastic consumption and CO2 emissions."
"Based on our strong expertise and innovation power, we are working intensively to transform all our existing products towards sustainability," explains Dr. Gitta Neufang, corporate senior vice president Global R&D at Beiersdorf. "Passionately, we strive to combine our excellent skin care benefits and superior product performance for our consumers with adding sustainability aspects."
"We have set one of the most ambitious climate targets of our industry and I am very proud that we are progressing so well. At the end of 2022, we achieved a 17% absolute CO2 reduction and our strong efforts on product-level are a key contributor to this great success", adds Jean-François Pascal, vice president Corporate Sustainability.
Head & Shoulders, a P&G brand, has revealed a 'roll and squeeze' bottle for its BARE anti-dandruff shampoo in a bid to ensure that consumers use 'every last drop' of the product. Apparently, the pack is fully recyclable and uses 45% less plastic per ml than the 370ml Head & Shoulders bottle.
Henkel's Pril Limited Edition dishwashing liquid bottle is reported to contain 100% recycled plastic, 50% of which comes from Germany's Gelbe Sack collection system; and Morrama's refillable packaging range is made using cellulose pulp that claims to be manufactured using renewable energy and recyclable in paper waste streams.
If you liked this article, you might also enjoy:
McDonald's Director of Sustainability in Europe on the company's approach to packaging sustainability
McKinsey on whether or not on-pack sustainability claims affect consumer spending
Perspectives from industry-leading experts on the EU's Packaging and Packaging Waste Directive revisions
A deep dive into the most important packaging sustainability trends and solutions