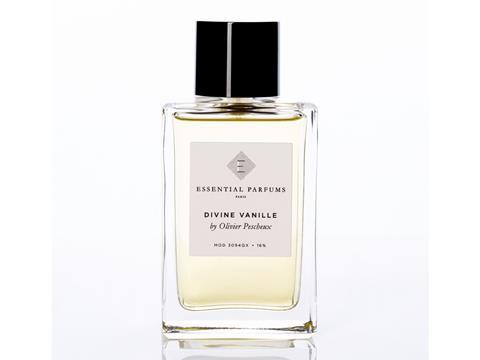 Coverpla has developed a refillable screw neck design for its glass Gala bottle, updating the fixed neck design used to package Essential Parfums' 'sustainable' fragrance line.
An initial line of fragrances was released by Essential Parfums in 2018, packaged in a unique 100ml format of the Gala bottle – designed by Coverpla and manufactured by glassmaker Bormioli Luigi.
Géraldine Archambault, founder of Essential Parfums, is said to have chosen the bottle for its affordability and minimal design, which sought to draw maximum attention to the product itself. Each bottle was signed by a renowned French perfumer.
Now the perfumes are transitioning into a screw neck (CV15) bottle design intended for infinite recyclability – piloted in partnership with Bormoli Luigi – and an accompanying series of 150ml aluminium refills sold in boutiques and online.
Florence Ghilardi, sales director at Coverpla, says: "We are proud to have risen to our customer's challenge: switching to refillable bottles without changing the visual identity of the bottle to which consumers are faithful."
"Without the precious help and professionalism of Coverpla's teams, Essential Parfums could never have taken off so well!" adds Géraldine Archambault, founder of Essential Parfums. "Its business model is unique for any brand launch."
The development comes after L'Oréal Group's Ralph Lauren Fragrances brand repackaged its Polo Earth vegan fragrance in a refillable bottle that reportedly incorporates 20% post-consumer recycled glass, a 55% post-consumer recycled carton, and a wood cap into its design.
Earlier this year, Dow and LVMH Beauty announced their own collaborative effort to implement plastics made from recycled and bio-based feedstocks into several of the latter's perfume and cosmetic product packs.
If you liked this article, you might also enjoy:
The Lidl approach to packaging sustainability
How did Brazil achieve its 100% aluminium can recycling rate – and can it be replicated in the EU?
Experts have their say on the EU's Packaging and Packaging Waste Directive revisions
A deep dive into the most important packaging sustainability trends and solutions