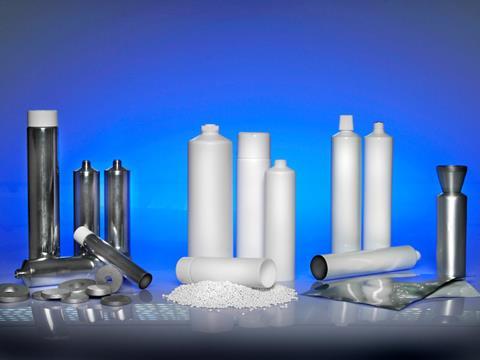 Manufacturers of aluminium, aerosol cans, and plastic tubes have highlighted the shortage of post-consumer recycled materials available for use in the packaging sector and called for industry-wide changes to generate more readily available recyclate.
Drafted revisions to the Packaging and Packaging Waste Regulation presented by the EU Commission at the end of last year are mandating increased utilisation of recycled materials in packaging. This is set to include a minimum threshold for post-consumer recycled materials per unit of plastic packaging from 1st January 2030, although targets have not yet been released for such materials as metals.
Members of Aluminium Deutschland (AD)'s Tubes, Cans and Impact Extruded Parts Division claim to have been working to implement recycled materials even before the new legislation was released, yet concerns have been voiced surrounding the accessibility of recycled materials as demand increases with accelerated sustainability efforts.
"The fact is […] that the demand for high-quality aluminium and plastic recycling material needed for the production of packaging exceeds the supply by far," says Clemens Behrenbruch, chairman of the division. "The race for these materials is on, worldwide.
"For example, for recycled polyethylene (PE) from PCR materials that are suitable for food contact, there are currently only a very limited number of suppliers throughout Europe. This is partly due to the fact that the European Food Safety Authority (EFSA) is significantly behind in approving recycling processes for polyolefins. The situation is further aggravated by the fact that large parts of the personal care industry also demand food-grade recycled material qualities.
"Accordingly, the current suppliers of food-grade PCR-polyethylene can more or less dictate the conditions in an oligopolistic market structure. The situation is similarly precarious for the barrier material EVOH, where supply is also severely limited. The material costs for packaging manufacturers are correspondingly high.
"In addition, often tool changes must be made in packaging production in order to be able to process the recycled material, which drives up costs even further.
"The increased use of PCR material is therefore not wishful thinking but has to face the hard realities on the supply side. Here, packaging manufacturers, brand owners, retailers, recyclers and legislators are equally challenged to create the necessary market and legal foundations."
The collective recommends the more consistent designing of packaging for the recycling stream and calls for the European legal framework to incentivise recycling, as well as investments in technologies and supply logistics, by promoting its profitability. In AD's view, this is the only sure path to collecting, sorting, and recycling packaging materials to a high standard.
In regard to plastic tubes, it also calls for the EFSA to make more intensive efforts to approve recycling processes for polyolefins. Legislators are encouraged to remain open-minded towards new technologies and, rather than disparaging chemical recycling, accept it in conjunction with its mechanical counterpart.
Several winners of last year's World Aluminium Aerosol Can Awards utilised recycled aluminium in their solutions; this includes the Rexona aluminium packaging utilising an advanced alloy containing recycled content developed by Trivium, as well as Ball Corporation's ReAl alloy composition – said to contain 50% recycled content – being implemented into its re:gen can.
Packaging Europe also spoke to Rob van Gils from Hammerer Aluminium Industries to gauge whether it was time for politicians and policymakers to step in regarding the rise in energy prices and its impact on the aluminium sector.
If you liked this article, you might also enjoy:
McDonald's Director of Sustainability in Europe on the company's approach to packaging sustainability
McKinsey on whether or not on-pack sustainability claims affect consumer spending
Perspectives from industry-leading experts on the EU's Packaging and Packaging Waste Directive revisions
A deep dive into the most important packaging sustainability trends and solutions