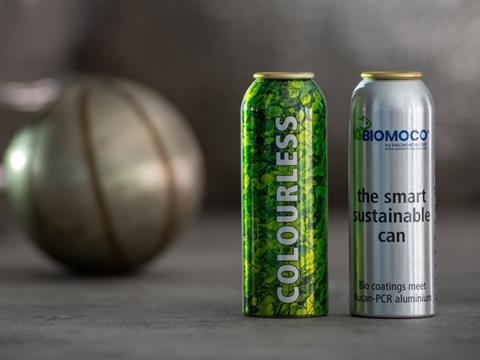 The International Organisation of Aluminium Aerosol Container Manufacturers (AEROBAL) has announced the winners of its World Aluminium Aerosol Can Award 2023, recognising designs for their visual appeal, functionality, and sustainability-minded features.
The award for the 'cans already on the market' category went to Nivea's Pearl & Beauty antiperspirant and its aluminium can, produced by TUBEX. It is noted for its translucent 'dark aubergine' colour scheme, the shining effect created by the aluminium underneath, and the use of a copy-dot technique applied on top to create a pearlescent shine and draw attention to the pack on the shelf.
Under the 'prototype' category, Nussbaum and Salchi Metalcoat's 'smart sustainable aerosol can' was recognised for its 100% recycled aluminium body. This aluminium is apparently sourced from beverage can waste and does not contain virgin or post-industrial recycled material.
It is claimed that the can-to-can upcycling concept saves 96% CO2, while the clear and white basecoat and clear overprint varnish are made of bio-based polyester coatings from Salchi's BIOMOCO line. BIOMOCO stands for Biosustainable Modern Coatings and comprises coatings made from castor oil and waste cooking oil to partially replace conventional fossil materials.
Apparently, these coatings offer high mechanical properties and elasticity, low VOC content, and resistance to hot water baths. Their bio content is thought to exceed 40%, and the cans' inner coating is made of a non-BPA epoxy gold lacquer that combines the compatibility properties of epoxy coatings with a bisphenol A-free lacquer solution.
The patented Nucan-PCR alloy used to make the can is DIN EN ISO 14021-certified, which is believed to guarantee end-to-end transparency and traceability for the can's value chain.
Two designs were awarded in the 'sustainability' category. Linhardt's 150ml Lornamead CD deodorant cans are made from 17% lighter slugs and are thought to contain an alloy with 100% post-consumer recycled aluminium and 0.3% virgin manganese.
AEROBAL explains that the slugs used in this design are sourced directly from molten aluminium scrap rather than consuming energy in a second melting process. Apparently, an LCA has proven that they have a carbon footprint of 1.1kg CO2e/kg – thought to result in 92% savings compared to virgin slugs' 13.1kg CO2e/kg.
Its lower weight is also expected to reduce transport emissions, with its supply chain also said to be traceable according to ISO 22095:2020.
The overall design aims to avoid unnecessary packaging and lower material use while meeting the stability requirements of a deodorant aerosol can. Its use of post-consumer recycled aluminium is expected to save 296.5 tonnes of CO2 per million cans produced.
Meanwhile, TUBEX Germany was also awarded for Nivea's styling mousse. Making use of the patented alloy Neucan 3.1, it is thought to deliver both a 'significant' weight reduction and the potential integration of real PCR. It contains 50% real-PCR, is thought to undergo a 'particularly energy-efficient' recycling process, and is printed with natural colours for design and decoration, using organic PURe printing ink in a bid to optimise the pack's sustainability.
"Once again, I am very satisfied with the quality of the competition, which year after year impressively demonstrates the performance of our industry and not least the creativity and innovative strength of our member companies," said Gregor Spengler, secretary general at AEROBAL. "The fact that, in addition to excellent designs, the focus was once again on sustainability underlines its immense importance in the packaging sector.
"And that makes me very confident for the future because aluminium aerosol cans not only have just one ace up their sleeve compared to other packaging materials due to their numerous positive properties of the metal in terms of sustainability. In addition, the continuous investments and innovations of our industry ensure that the position of the aluminium aerosol can as a sustainable packaging solution of the future will continue to develop positively."
Earlier this year, AEROBAL reported a 6.8% increase in its members' global shipments in 2022, raising the total figure to approximately 6 billion units. This was specifically attributed to growth in various markets since 2021 – a 13% rise in demand from the pharmaceutical sector; a 17% rise in the hairspray sector; a 14% rise in the shaving foam sector; and a 42% rise in other personal care sectors.
Additionally, the REMADE Institute has announced that a technology capable of removing metallic impurities from recycled aluminium melts and improving its quality for wider industrial use – developed with the Institute's support – has received a new technology license.
If you liked this article, you might also enjoy:
The Lidl approach to packaging sustainability
How did Brazil achieve its 100% aluminium can recycling rate – and can it be replicated in the EU?
Experts have their say on the EU's Packaging and Packaging Waste Directive revisions
A deep dive into the most important packaging sustainability trends and solution