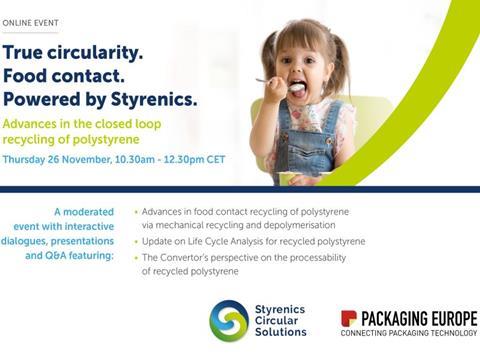 Prior to our online event with Styrenics Circular Solutions (SCS), we are taking a closer look at the initiatives's work and get a sneak preview of some of the topics discussed at the event.
Styrenics are a family of plastic materials, including polystyrene (PS), which can be used in a range of applications, from food packaging to transportation, construction, electrical appliances and medical products. With their unique properties it is believed that styrenics can contribute in many ways to the attainment of EU policy goals and achieving a circular economy.
Styrenics Circular Solutions (SCS) is a value chain initiative with the objective to make the circular economy a reality for styrenics through innovative recycling technologies and partner-driven solutions. It incorporated as an independent organisation and collaboration platform in December 2018.
Its commitments include realising the potential of styrenics for circularity by engaging with the entire value chain, developing and scaling-up innovative technologies to recycle styrenics back into high-quality applications including food contact, as well as creating a market pull moving away from incineration and landfill towards game-changing recycling solutions.
Its members and partners now include petrochemicals, monomer and polymer producers, international packaging solutions manufacturers, innovative recyclers, waste management companies, technology providers and their industry associations. SCS submitted a pledge to contribute to achieving 10 million tons of recycled plastics being used in products in EU by 2025. To this end, it is also a signatory and active contributor to the Circular Plastics Alliance (CPA).
Mechanically recycled PS and food contact
In October 2020, Styrenics Circular Solutions announced that it successfully demonstrated that polystyrene is mechanically recyclable to food contact standards. In cooperation with the Fraunhofer Institute, SCS performed so-called "challenge tests", which reportedly confirmed the high cleaning efficiency of the mechanical recycling technology for polystyrene to remove impurities originating from waste streams. Due to polystyrene's low diffusion properties, purity levels of 99.9% and more of the PS recyclate can be achieved, targeting food contact quality.
"This result is supported by the intrinsic properties of polystyrene: it is a low diffusion polymer that prevents external substances from entering the polymer structure. Furthermore, packaging waste sorting and characterization tests have demonstrated that polystyrene packaging waste from EU countries overwhelmingly consists of food contact items, making it an outstanding feedstock for closing the loop back into food contact packaging," says Herman Van Roost, General Manager Feedstock & Mechanical Recycling, SCS.
Chemical recycling
Various chemical recycling projects have also worked to deliver the practical proof of the depolymerisation of post-consumer PS waste back to its constituent monomer, which can be polymerised again to produce recycled styrenic plastics with the same quality as the virgin material, thus meeting food contact standards.
" r-PS from depolymerisation is identical to the virgin polystyrene and can thus be used in the same high-quality applications even for food contact. With proven technology already in place, plans are underway to build the first-of-its-kind full scale commercial polystyrene recycling plant based on depolymerisation in France, capable of processing up to 50 tons-per-day of post-consumer polystyrene feedstock and expected to be fully operational by mid-2023," says Dr. Norbert Niessner, Global Head of R&D, INEOS Styrolution and Chair Technologies, SCS.
Test runs by SCS members, packaging producers for the dairy application, have demonstrated that the recycled polymer is not degraded at all. "Indeed, r-PS behaves as a drop-in solution in our existing production lines and can be used both as monolayer and as A-B-A layer application with virgin polystyrene," agree Anabela Ferreira, Co-owner and Executive Board Member, Intraplás; Iain Sturges, Chief Procurement Officer, COEXPAN; Tobias Strasser, Managing Director, Greiner Packaging.
"Out of our portfolio of recycling technologies two are in the spotlight at this event: mechanical recycling and depolymerization. Each of them extends closed-loop food contact recycling beyond PET bottles to new food grade applications and thus make polystyrene an important contributor to the EU's recycling targets. We are now truly at a stage where we can say, we can go in a closed loop from yoghurt cup to yoghurt cup with recycled polystyrene over and over again," adds Jens Kathmann, Secretary-General, SCS.
Interested to find out more? Join us in a online event with Styrenics Circular Solutions on November 26th at 10.30 CET to gain valuable insights in the circular potential of polystyrene from mechanical to chemical recycling, hear about a comprehensive Life Cycle Analysis and get a look ahead at circular roadmap for styrenics. Last but not least, you will discover the converter's perspective on recycled polystyrene.