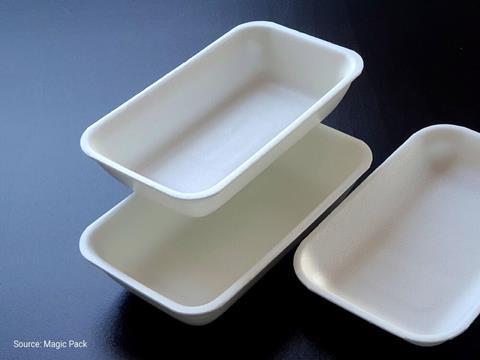 Joint industry initiative Styrenics Circular Solutions claims to have developed a recycling process for foamed (PS) and extruded (XPS) polystyrene trays, which it hopes will enable closed-loop recycling for polystyrene products.
Corepla, a partner of SCS, is said to begin the process by collecting post-consumer foamed PS trays and creating a sorted fraction for it in its sorting centres. This fraction then undergoes high-purity mechanical deep sorting, hot washing, and flake sorting, courtesy of SCS member Tomra in collaboration with Zimmermann.
The subsequent process of dewatering and finishing into PS recyclate was developed by Forever Plast S.p.A.; Versalis (Eni), another SCS member, then puts the recyclate through Magic Pack, a quality assessment and converter and a member of ProFood (Unionplast), and the recyclate is turned into new trays.
To ensure that the trays are food-safe, the recycled PS (rPS) is sandwiched between layers of virgin PS in what SCS refers to as an 'ABA structure'. Therefore, the resultant trays contain 50% rPS, yet they claim to be 100% recyclable overall. A similar use of functional PS barriers was previously utilised by ProFood with rXPS recyclate.
"This success story has positive implications far beyond Italy," claims Jens Kathmann, secretary-general at SCS. "The proof that XPS food trays can be effectively and efficiently sorted, recycled, and returned even to its original food contact applications should inspire accelerated scale-up.
"It also confirms the market demand for rXPS trays, which should encourage others to follow the example of Italy."
Claudio Bilotti, polystyrene marketing manager at Versalis (Eni), added: "The results confirm that XPS trays are fully circular; they are already today widely collected in Corepla's collection system in Italy.
"The trays are easily sortable in Corepla's existing sorting facilities and now have proven in practice to be recyclable in a closed loop thanks to the innovative high-purity mechanical recycling process adapted from rigid PS to foamed PS.
"The entire value chain is driving the rapid establishment of a high-purity recycling channel for all major PS applications and the uptake of rPS including from foamed PS trays into new products, including food packaging."
Earlier this year, SCS filed a second application to the European Food Safety Authority (EFSA) for the approval of mechanically recycled PS based on Gneuss' super-cleaning technology for plastics.
It also joined the PolyREC project – a data collection system spanning across Europe, seeking to record the volume of recycling and recycled material usage of plastic converters and recyclers – alongside Polyolefin Circular Economy Platform (PCEP) and European Manufacturers of Expanded Polystyrene (EUMEPS).
Trinseo and GMP Group recently announced plans to build a European plant to manufacture food-contact rPS.