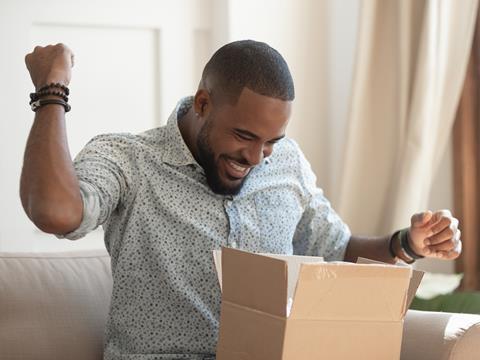 New analysis from Smithers has laid out a suggested pathway for brands to design their premium e-commerce packaging for optimal business practices, from resealable packs for product returns to smart packaging solutions to smart solutions to tracking consumer engagement.
While an omnichannel strategy is becoming increasingly popular when it comes to the sale of products, Smithers points out that packaging remains a key physical touchpoint for brands to communicate their stance on such values as service, luxury, and sustainability to their customers. Its new report – The Impact of Omnichannel on E-commerce Packaging – is proposing ways in which packaging converters and suppliers can take advantage of the ever-evolving e-commerce market, which was worth $63.60 billion in 2022.
Opportunities for packaging are thought to lie in automation – specifically, the investment into new forming, converting, and filling equipment. Upgrades in digital print equipment are expected to enable brands to personalise packaging for their consumers, and enhanced automated solutions can lead to an improvement in customer service.
Pack resealability is becoming a greater concern, as product returns come hand-in-hand with online shopping. Reseal tabs or fixtures and easy-to-use address labels are noted as developing solutions that can demonstrate commitment to a consumer's experience and encourage brand loyalty.
Another deciding factor through which a consumer chooses to purchase from a brand is the sustainability of its packaging. Rightsizing packaging, or utilising the minimal amount of secondary or protective materials to ensure product safety, as well as designing for recycling and choosing packaging materials for their low carbon emissions are the recommended solutions.
New, less conventional distribution channels such as click-and-collect and same-day fulfilment are also on the rise, and Smithers points out that packaging designers must take such delivery routes into consideration when designing e-commerce packaging.
Where unboxing is concerned, Smithers asserts that the process of unpacking a delivery is as important for brand experience as the product itself. It advises that companies invest in 'innovative' and 'harmonious' packaging designs, materials, and graphics, with packages that are 'clever' and 'luxurious' expected to please consumers and facilitate positive brand reception.
Additionally, smart packaging can reportedly be utilised for repeat sales. It makes use of customer information and interactions to build up a digital profile, and the addition of QR codes, RFID, or NFC tags to omnichannel packaging allows companies to collect such data in real time and optimise proceedings in warehousing and logistics.
Details around the current structure of omnichannel campaigns, case studies of best practice, and Smithers' vision of this industry's development are also included within the report, which is currently available for purchase.
A consumer trend survey conducted by RetailX on behalf of Mondi previously examined the current e-commerce trends amongst consumers in France, Germany, Poland, Sweden, and Turkey; this included attitudes towards its packaging and generation differences in shopping habits.
Similarly, DS Smith suggested that 43% of consumers surveyed are unhappy with the amount of packaging used for the products they purchase, while four-fifths of businesses were using a disproportionate amount of packaging in their products.
If you liked this article, you might also enjoy:
McDonald's Director of Sustainability in Europe on the company's approach to packaging sustainability
McKinsey on whether or not on-pack sustainability claims affect consumer spending
Perspectives from industry-leading experts on the EU's Packaging and Packaging Waste Directive revisions
A deep dive into the most important packaging sustainability trends and solutions