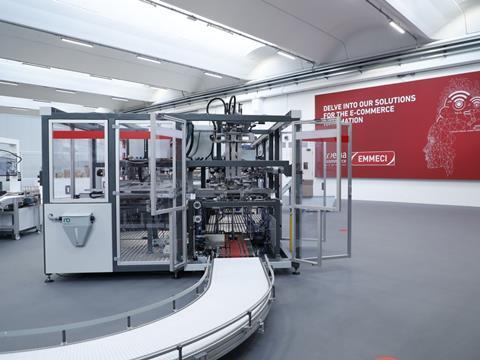 Coesia company Emmeci's E-BM fit-to-size box-making machine is set to provide the e-commerce sector with customizable packaging for a range of product sizes and shapes.
Engineered for easy integration into existing warehouse control and management systems, the E-BM adapts the dimensions of the packaging to its end product automatically and on demand. It is said to right-size boxes into shapes that are up to 40% smaller – and use less material – than standard shipping boxes.
As the base of each pack consists of a single piece with no bottom closure and corners reinforced with a double layer of material, packaging produced by E-BM is described as robust. It is designed to increase resistance and protect items in transit for an enhanced customer experience.
These fit-to-size boxes are expected to result in easy handling, saved space, and transport optimization in the shipping and delivery processes, in turn saving emissions and inventory footprint – features expected to benefit the downstream phase of the supply chain.
Furthermore, the packaging can be customized to fit customer requirements, including tape closures and a number of printing options for codes and labels for control and traceability processes.
Coesia emphasizes that its e-commerce solutions revolve around three key domains, including pack automation for box production, filling, and inline printing; e-fulfillment for automated conveying solutions, sorting equipment, and more, aiming to optimize processes and overcome challenges facing industry operators; and advanced robotics capabilities like picking systems and palletizing and depalletizing equipment to handle products, boxes, and cases.
As the sector is expected to grow by 13.8% over the next five years, the company offers its services as a single partner with end-to-end automated solutions across the packaging value chain, looking towards agile, flexible, and efficient operations and customer satisfaction.
Automated packaging machines for on-demand, made-to-measure paper bags are currently being trialled by Amazon. The technology hopes to reduce pack volume, weight, and subsequent carbon emissions in transit.
Walmart is also right-sizing cartons at its distribution facilities using technologies from KNAPP and Packsize. The development will apparently halve the company's use of filler material and cut down on cardboard waste.
If you liked this article, you might also enjoy:
The L'Oréal approach to packaging sustainability
What steps is Apple taking to make its packaging more sustainable?
How did Brazil achieve its 100% aluminium can recycling rate – and can it be replicated in the EU?
Experts have their say on the EU's Packaging and Packaging Waste Directive revisions
Also, if you're interested in packaging sustainability, you will want to attend our Sustainable Packaging Summit in Amsterdam on 14-15 November. The Summit brings together leaders and pioneers from across the industry to align strategically, learn, network, and create a critical mass to accelerate change. You can learn more by clicking here, and you can buy a ticket to attend here.