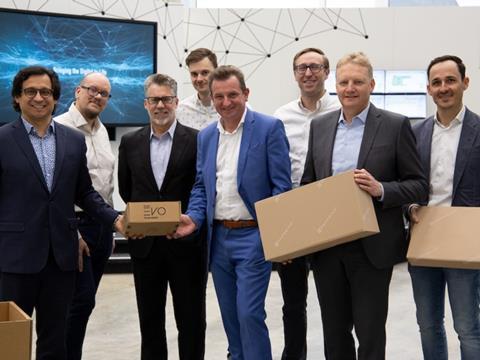 Walmart has adopted technologies from KNAPP and Packsize to right-size cartons at its distribution facilities – a move thought to have lowered the retailer's cardboard waste and more than halved its use of filler material.
Using KNAPP's automation technology and Packsize's right-sized packaging technology, the companies have created a fully automated solution expected to minimise the number of cartons used to ship products, as well as the amount of filler material they contain.
In turn, it is hoped that cardboard waste will be decreased; delivery vehicles can fully optimise their space and take fewer trips for deliveries; personnel costs will be reduced; and consumers' shopping experience will improve – all of which could give online retailers a competitive advantage.
Samuel Krauser, product manager and sustainability expert at KNAPP's global headquarters in Graz, Austria, explains: "As soon as an order is started, the software uses master data to calculate the required size for the shipping carton, which the Packsize machine then produces. Then the custom-sized target carton is sent directly to the workstation for picking. This significantly reduces unnecessary packaging and fill material, which also reduces shipping costs."
Tailoring a pack to a product apparently saves one-third of the amount of filling material used in traditional packaging solutions and reduces carton size by up to 40%. Four Walmart distribution centres in the United States are currently utilising the technology, reportedly reducing cardboard waste by 26% and void-fill packaging use by 60%.
KNAPP and Packsize now state that they are implementing a right-sizing solution for an international sports clothing retailer that ships 6.2 million cartons every year in its global operations. By adopting this solution, it estimates a 30% reduction in void fill and a 5000km decrease in packaging tape.
Furthermore, the companies claim that an annual 500 tonnes of CO2 will be saved each year. They also suggest that the optimal loading of delivery vehicles will serve as an additional reduction of the company's carbon footprint.
For Walmart, right-sizing cardboard packaging is a step in its packaging sustainability strategy, which also includes the utilisation of recyclable paper mailers, a complete transition into electric delivery vans, and giving consumers the chance to opt out of single-use plastic bags.
In an exclusive statement to Packaging Europe, Amazon expressed its own desire to right-size its packaging. According to a spokesperson, the retailer has reduced the average weight of its outbound packaging by 41% and removed over 2 million tons of packaging material from its operations since 2015.
Its own sustainability strategy anticipates the use of machine learning algorithms to right-size the packaging for its e-commerce deliveries.
While Amazon has approved of the European Commission's efforts to cut down on waste and excess packaging in online retail, Jo Bradley, business development manager at Sparck Technologies, has challenged the packaging industry to make progress before the Packaging and Packaging Waste Directive's 2030 deadline – both to protect the natural environment and optimise business' financial expenditure.
If you liked this article, you might also enjoy:
The Lidl approach to packaging sustainability
How did Brazil achieve its 100% aluminium can recycling rate – and can it be replicated in the EU?
Experts have their say on the EU's Packaging and Packaging Waste Directive revisions
A deep dive into the most important packaging sustainability trends and solutions