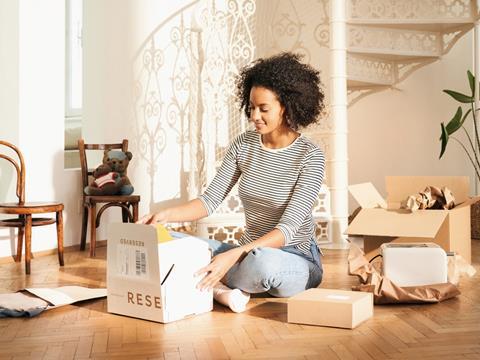 RetailX has conducted Mondi's fourth annual consumer trend survey analysing consumers' online shopping behaviour, including generational differences in shopping patterns, and attitudes towards packaging.
The survey was carried out amongst 1,000 consumers in France, Germany, Poland, Sweden, and Turkey. Lower prices, time efficiency, and direct delivery are all cited as the top incentives for online shoppers of all generations across the five national markets. Fashion products are said to be the most commonly purchased items, followed by homeware, consumer electronics, and beauty products.
Five key trends are outlined from the survey results, the first being consumers' demand that packaging protects the product – voted as the most important factor by 94% of participants. Meanwhile, 84% of respondents highlighted environmental friendliness as a priority, and 80% easy disposal of the packaging following the products' delivery.
Compared to a customer trend survey conducted in 2019, the ease of closing for returns has risen in the ranks of customer priorities from 74% to 88%.
"As customers have seen the growing availability of easy-close packaging, so they have also realised how well it fits their needs, both in terms of the convenience of being able to easily reseal without hunting for the packing tape but also the sustainability aspect of reusing packaging," says Nedim Nisic, eCommerce director at Mondi Group.
The second trend is overpackaging, with 86% of participants expressing their annoyance at oversized packaging – a 7% increase compared to 2021 – and 78% growing frustrated with excess internal packaging. 67% stated that they would decide against buying a product if they felt that it was overpackaged.
Respondents also indicated an increased interest in the unboxing experience. 66% of Polish customers responded that they were familiar with the term, a significantly higher number than the 32% answering the same question in 2019. While 46% of consumers surveyed in 2021 stated that a unique unboxing experience would convince them to order from the same retailer again, the number rose to 78% this year.
Another apparent trend is consumers' willingness to pay a small premium of around €1 to ensure that the packaging they purchase suits their needs. This interest has risen by 33% in Poland and 14% in Germany since 2021. 72% of all participants stated that they would pay for packaging; most of these respondents were Generation Z and Millennials, with a respective 80% and 74% of their age groups inclined to pay extra.
Millennials are also said to be the most active shoppers on the online market. 37% of Millenial respondents claim to shop online more than once a week, and 8% at least once a day; the survey also suggests that they are the biggest spenders across sectors, as well as placing the most emphasis on desired packaging characteristics.
Previous research conducted by DS Smith concurred with consumer impatience surrounding overpackaged products, with 43% of respondents expressing their frustration. While 86,000 tonnes of potentially avoidable emissions are thought to be generated by excessive packaging every year, four-fifths of companies admitted that the packaging they use does not fit with the size of the product.
Duo also found that 56% of Generation Z consumers are less likely to buy another product from the same retailer if their e-commerce packaging is not resourceful or sustainable.
Other research to identify packaging trends includes Digimarc Corporation's claim that over 70% of consumers place importance in the verifiable authenticity of a product, and James Cropper's belief that branding and colour trends are currently influenced by social media and environmental consciousness.