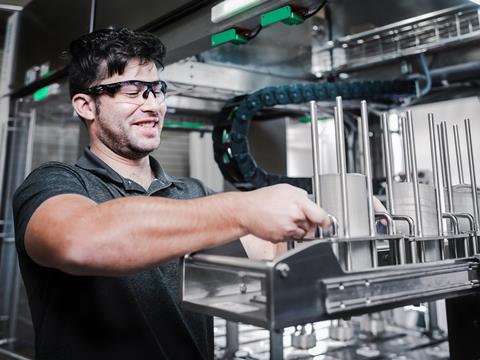 Syntegon will exhibit its LFS filling solution for liquid and viscous deli food products such as sauces, dips, and salads, as well as a further development of its cloud-based data collection and visualisation software, at interpack 2023.
Ampack GmbH and Osgood Industries – both Syntegon companies – combined their respective expertise to develop the solution, which is said to offer a flexible process to meet the requirements of the deli food industry. A toolless system apparently enables high output and speed and shorter downtimes, with operators able to exchange carrier plates and resume production quickly.
These plates can be detached from the transport chain and replaced with the desired format in order to adjust the diameter, shape, and filling volume of the cups. Up to two different plates can be pre-installed to allow operators to commence production quickly, according to Syntegon.
Therefore, the machine is apparently compatible with cups between 60 and 160 millimetres in diameter, with between three and eight lanes available for simultaneous use. Additionally, its SmartFill filling system is said to provide high filling accuracy and prevent overfilling, thus cutting down on product loss. This can also be retrofitted to fill liquid and highly viscous products.
The LFS' drive technology and the packaging materials it is compatible with – including paper and polypropylene – are hoped to contribute towards increased sustainability in the production process, with the lubrication taking place during carrier plate transport occurring directly at the chain using a dosing and application mechanism – said to be a precise process that avoids oil overdosing. Furthermore, the lifespan of the chain itself is thought to exceed that of similar systems by 20%.
In terms of energy savings, the LFS' 'modern electronics concept' aims to reduce energy consumption by 30%.
"The machine is available in Clean and Ultra-Clean applications, and stands out due to its high flexibility," explains Oguz Karcier, product manager at Syntegon. "Thanks to its modular design, the LFS can be adapted to the respective market and production conditions with little effort – ensuring future-proof processes at all times.
"Since production in the deli food industry involves small batches, time-saving format changes are crucial."
Syntegon also offers service agreements for the machinery, with the foundation for effective equipment and maintenance management available at fixed prices. With seven dedicated levels providing inspection and remote service, amongst other benefits, Syntegon can apparently help industrial customers reduce production risks, predict service costs, and simplify complex processes.
As such, the company's interpack booth will display Uptime, the second package of its cloud-based software for the collection, evaluation, and visualisation of machine and production data. 'Monitor', the basic package, visualises a series of KPIs in the hopes of improving production transparency, with a third package still to come.
"Now that our customers are successfully implementing the basic package, we are ready to upgrade to the next level," says Elisa Hein, product manager for Expert Services at Syntegon. "We are delving deeper into the details: besides machine availability, we can now also identify specific potential for improvement, for example by visualizing the most frequent reasons for stops."
Other products set to be displayed at this year's interpack include intelligent drive and automation solutions from Baumüller, aiming to enable sustainable and resource-efficient packaging processes; Valmatic Srl's VAL56 form-fill-seal machine for thermoformed unit-dose and stand-up packaging; and Robatech's consumption-reducing jetting heads for gluing applications.