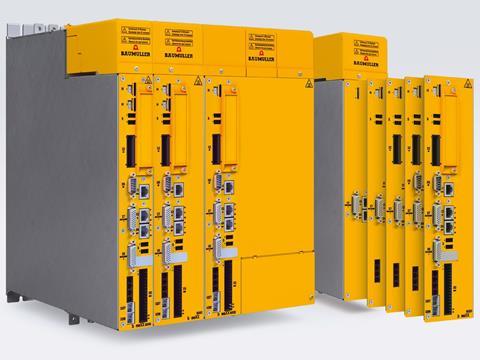 Baumüller will display its intelligent drive and automation solutions set to facilitate sustainable and resource-efficient processes for the packaging industry – including energy monitoring and machine simulation software, water-cooled servo motors, and a new generation of servo controllers – at interpack 2023.
Baumüller's b maXX 6000 series aims to usher in the next generation of servo controllers for improved scalability, additional safety features, and such Industry 4.0 functions as energy monitoring integrated into the drive. Its controllers apparently offer higher speed and reliability than previous models, while its firmware remains compatible with the preceding b maXX 5300 family to enable an expanded functional scope without requiring new programming or parameterisation. The solution intends to bring maximised control quality and dynamics and high power density to packaging machinery.
A three-axis exhibit, drive-based energy monitoring software is thought to provide a transparent rundown of the drive system's energy consumption. It hopes to allow companies to identify their carbon footprint and, in line with the EU's Sustainable Product Initiative, prepares them for future document obligations. Its capabilities apparently include the optimisation of travel distance in terms of energy, enabling companies to reduce the CO2 footprint of an end product.
Its integrated control mode is also set to detect vibrations within a machine, analyse them in real time, and automatically and immediately optimise its process. As such, the quality of the end product is expected to increase – for instance, the sealing time for foil packaging is expected to remain constant when this solution is applied.
Meanwhile, Baumüller's ProSimulation software features ready-to-use models for the company's drive components through which machines can be simulated; this is said to be ideal for efficiently dimensioning non-linear kinematics, energy stores, and other complex applications for drive components. Additionally, platform-independent models can be used for motors and drives, which can be imported into existing machine models through open standards such as FMU.
In another new software tool, ProDataX, customers can reportedly utilise communication via control technology through to the drive level – a possibility expected to facilitate the transfer of platform and manufacturer-independent data via OPC UA. It is compatible with both Baumüller hardware and standard PCs with a Windows operating system, according to the company.
The Web & Foil software template is designed for machines and systems applied to paper and foil production, including the manufacturing of foil bags, corrugated board, and folded carton machines. Users can apparently save time otherwise spent programming by utilising motion modules and templates for functions such as alarm handling or prepared visualisations. As such, companies are expected to reduce development costs and achieve a faster time-to-market, as well as gaining integrated machine-specific modules such as a cam controller and register control.
Water-cooled servo motors have been designed to increase power density through active cooling, as well as optimising heat dissipation via the close installation of multiple servo motors. This apparently saves space in the machine and its many axes, with a variety of sizes available to customers.
Baumüller also states that it is offering worldwide life-cycle management to its customers, including various services for project planning, retrofitting, relocation, and design and engineering through assembly and commissioning to maintenance, the company anticipates that it can enable machine operators in plant and machinery manufacturing to adopt more sustainable and resource-saving solutions.
Fujifilm has also announced the digital and analogue packaging solutions that it will be displaying at interpack, from water-washable flexo plates to a series of jet presses.
In other automation-related news, Mitsubishi Electric AI Laboratory has unveiled its MELSOFT MaiLab AI solution, which reportedly optimises operations on manufacturing lines while maximising equipment monitoring, visibility, and diagnostics.
TOMRA has also released a series of new reverse vending machine concepts for beverage containers, including developments in its multi-feed reverse vending technology, artificial intelligence, and operational efficiency.