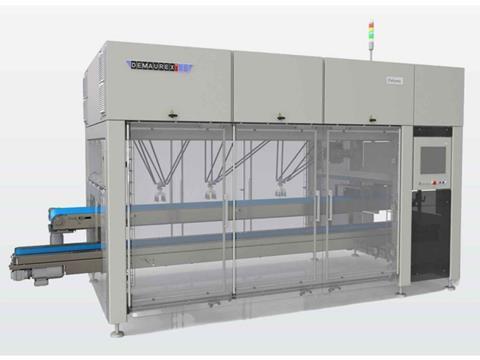 ROTZINGER Group is unveiling its new feed placer, filling and capping machine, bar production line, and upgraded blister machine at this year's interpack in an expansion of its packaging and processing portfolio.
The Paloma feed placer utilises high-speed delta robots to identify incoming products on the conveyor belt, picking and placing them into cartons, cases, thermoforms, flow-wrappers, and cartoning machines. It can apparently handle both packed and unpacked products, with its modular design allowing for the direct integration of an infeed chain of a horizontal or vertical packaging machine into the cell, enabling loading with oriented products.
According to ROTZINGER, Paloma is ideal for food and confectionary applications and, when combined with an integrated buffer, offers new lean layout opportunities.
The ROTZINGER Group's FLK/VRM Filling & Capping machine is said to offer maximum flexibility and efficiency by combining the operations of a linear filler and rotative capper. It is designed to fill liquids of various viscosities with its volumetric and mass-flow filling system, and is adjustable for different formats.
A compact redesign of the company's TLT blister machine will also be exhibited. Now reported to process up to 400 blisters per minute, it can be connected to several cartoners and apparently offers flexibility, safety, and short changeover times while maintaining high Overall Equipment Effectiveness.
The modular design apparently enables easy retrofitting and provides clear separation between the production and drive areas. By completely encapsulating the product feed zone, it aims to ensure compliance and protect the product and packaging material.
It also comes with user-friendly interfaces with a colour touchscreen; this is set to simplify machine operation and prevent misuse. Standard thermoforming and aluminium foil packaging for pharmaceutical products such as tablets, capsules, and dragées are said to be the ideal applications for this machine.
Furthermore, the WRL Flex slitter, developed by HANSELLA, apparently provides an adjustable cutting width without the need to change parts. As well as increasing flexibility and lowering product waste, the solution's goal is to maximise productivity, drive down production costs and optimize return on investment (ROI).
Because it enables repeatable cutting width changes in the bar cutting process without changing the cutting knife shaft or the complete slitter, the machine is not thought to require lengthy setup processes, rather offering a hygienic design and toolless cleaning in a single-source solution.
The patented WRF Flex slab former is also said to reduce or eliminate the trim when processing bars including cereal, candy, protein, and fruit. By forming a wider slab and compressing it to the finished width, the machine solves the issue of lower density at the edges of a product.
The solution is designed to lessen waste, decrease production costs, and speed up ROI, and claims to be the only roll former on the market that provides precise and continuous mass slab adjustment without the need to interrupt the production process.
ROTZINGER states that its chocolate enrober provides a quick mass-changing system for coating chocolate bars, with a removable and exchangeable mass trough alongside an exchangeable enrobing head and curtain device said to facilitate mass changes in minimal time. Chocolate melting and tempering units are also available to complete the enrobing portfolio.
Finally, the company's digital solutions will be visible at the company's booth – including its Digital Factory Software Suite, which claims to increase process efficiency and quality and provide continuous access to data. Customers can keep track of ongoing updates and advancements by signing a maintenance contract, with service experts available at the event to answer questions about ROTZINGER's service support.
Its system integration services also aspire to help companies implement the software in a step-by-step process, while its fully digitised Q-Checks and a management cockpit also work in tandem to facilitate paperless production, apparently ensuring continuous improvement on the shop floor.
Other companies will present their own solutions at interpack. Syntegon's LFS filling solution for liquid and viscous deli food products like sauces, dips, and salads will be presented alongside its cloud-based data collection and visualisation software.
Meanwhile, VDMA will offer a range of packaging-related innovations, from its knowledge portal for process and packaging technologies to seaweed-based packaging concepts.