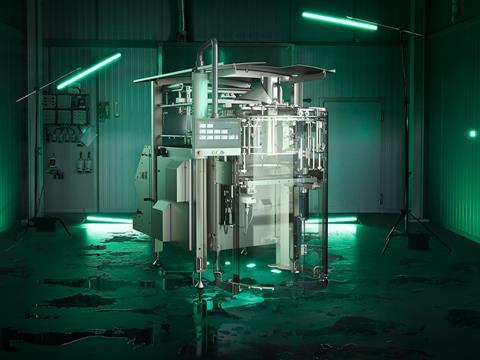 Syntegon is presenting two of its four new vertical form, fill, seal (VFFS) machines for various food applications and a second package for its cloud-based monitoring solution at interpack 2023 – aspiring to provide customers with a safe, flexible, and efficient packaging line.
The SVX Agile is compatible with basic tubular bag styles and can reportedly be upgraded with modules for corner sealed bags, three-sided seal bags, doy-style, and doy-style zip bag. The SVX Duplex, meanwhile, features two film lanes on the same 1,220 mm wide frame, which is thought to lead to higher output rates for such bag styles as pillow, gusseted, and block bottom bags.
Live demonstrations for both are taking place at Booth A31 in Hall 6. While the SVX Agile is functioning as a stand-alone machine solution producing pillow bags applicable to various industries, the SVX Duplex is producing packaging for jellies in kitchen, processing, and depositing equipment applications, as well as primary packaging for cartoning.
A versatile 36-head weigher is dosing and feeding the jellies to demonstrate the machine's potential outputs. For the demonstration, Syntegon's RPP pick-and-place robot has been combined with the SVX Duplex to place the bags in pre-formed carton trays, courtesy of the Kliklok ACE carton erector.
Each SVX variant contains a patent-pending cross-seal drive that features four independently controlled servo motors. Combined with the low inertia, this is said to drive high outputs, as well as giving manufacturers full control over the vertical and horizontal movement of the machinery to ensure that seals are fully reliable.
Compared to previous machines of their kind, the SVX series can reportedly provide a wider range of bag sizes with a maximum of 400 millimeters in width. A front cylinder is built into each machine, with its curved sliding doors relocating to the back of the cylinder when opened to prevent obstruction during maintenance work; this feature also allows for the safe adjustment of printers – two of which can be installed behind the cylinders – without the need for machine downtime, as would be the case for a design with side doors.
The central cabinets also feature Beckhoff technology that can be easily reached from either side of the machines and does not contain any mechanical components.
SVX customers can also receive Syntegon's Service Agreement packages for all maintenance needs at a fixed price. Seven dedicated service levels are designed to eradicate unplanned downtime, with each level decreasing customer responsibility further while increasing the scope of services covered – ranging from basics such as inspection and remote service to preventative maintenance and operator training.
In combination with Synexio, Syntegon's cloud-based monitoring solution, the machines utilise in-built sensors and a self diagnosing system to support manufacturers in accessing, evaluating, and visualising information about the machine and production process on demand. Synexio is already available in the basic "Monitor" package, which customers can test before buying during a trial phase, but the second "Uptime" package is available at interpack.
"After our customers have already successfully used the basic package, they are now ready to upgrade to the next level," explains Elisa Hein, product manager Expert Services at Syntegon. "With this, we increase the level of detail: in addition to machine availability, customers can now identify concrete potential for improvement, for example, by visualising the most frequently occurring reasons for stops."
"The new VFFS machine series combines high pack style flexibility with intuitive functionalities, giving frozen food, bakery, confectionery, and snacks producers a leg up on competition," says Martin Boutkan, product manager at Syntegon. "Thanks to a wealth of easy upgrade options and access to Syntegon's digital services, the SVX series helps customers keep up with market trends while running stable processes at all times.
"Customers are always looking for solutions that can produce reliably tight cross seals for added product safety. The SVX makes sure this is the case without compromising on speed. Depending on the bag parameters as well as the dosing of the product, the SVX Agile achieves outputs of up to 300 bags per minute with one film lane.
"If brand owners want to extend their portfolio to bigger bags, they don't have to acquire another machine. The SVX is a future-proof solution that can handle the full bag range of different VFFS industries."
Syntegon is also displaying its Sepion 175 drum coater, GKB 2100 banding machine-process systems, and LFS filling solution for liquid and viscous deli food products at its interpack booth.
If you liked this article, you might also enjoy:
McDonald's Director of Sustainability in Europe on the company's approach to packaging sustainability
McKinsey on whether or not on-pack sustainability claims affect consumer spending
Perspectives from industry-leading experts on the EU's Packaging and Packaging Waste Directive revisions
A deep dive into the most important packaging sustainability trends and solutions