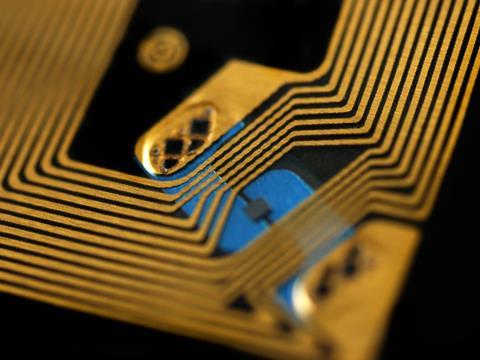 According to Smithers, the track-and-trace packaging industry is set to reach a total value of $2.5 billion by 2027, with the company attributing the rise in demand and market value to the rise of e-commerce and counterfeiting concerns associated with the COVID-19 pandemic.
In The Future of Track and Trace in Packaging to 2027, Smithers says that the total value of taggants, RFID antennas, and coding print in packaging applications has grown by 76% since 2017 and will be worth $1.6 billion in 2022.
The company adds that this upward trajectory is set to continue, forecasting a compound annual growth rate (CAGR) of +9.5% through to 2027 for the track-and-trace packaging industry. By 2027, the track-and-trace packaging market will reportedly yield a total value of $2.5 billion.
Supply chain security has emerged as a business priority during the COVID-19 pandemic, which has pushed up demand for smart packaging solutions, Smithers claims. A recent report from Europol and the European Union Intellectual Property Office (EUIPO) suggests that the COVID-19 pandemic presented new challenges in terms of preventing counterfeiting, with the shift to e-commerce and the global roll-out of the vaccination programme requiring both tested and novel solutions to protect consumers.
Smithers notes that traceability features, including item-level tracking, are already mandated in many high-risk segments, such as pharmaceuticals and medical devices. The company says that healthcare will remain the biggest end-use market for track-and-trace solutions, with its value reportedly set to double between 2021 and 2027.
Meanwhile, the company explains that concepts and technologies already established in industries like pharmaceuticals are increasingly being applied to other supply chains in a bid to boost security and efficiencies. Smithers predicts a rapid adoption of trace-and-trace technologies into multiple other consumer segments that ship perishable or valuable goods, including food, drinks, and cosmetics.
Smithers adds that these industries will benefit from the fall in pricing for individual tagging components as these technologies are refined and commercialised. Companies including Walmart are now widely adopting RFID for retail settings, for example.
According to Smithers, industrial and transit packaging will remain the most lucrative element of the trace-and-trace market as large unit packaging apparently justifies the cost of bespoke solutions such as active RFID tagging. With the supply chain disruptions wrought by COVID-19 continuing to be felt across industries, Smithers says that smart packaging solutions that allow for resilience and flexibility in supply chains will continue to expand.
In the short term, Smithers says that the packaging track-and-trace market will continue to rely principally on coding print, such as unique alphanumeric identifiers, 1D barcodes, and 2D barcodes. The company also expects a wider interest in on-pack RFID and NFC frequency antennas to provide more dynamic monitoring in more expensive applications. Examples include Identiv, a global leader in digital security solutions, which worked with OTACA Tequila to provide an embedded NFC tag that allows consumers to authenticate and re-order the product.
On the other hand, covert taggants are likely to be a popular option for brand owners concerned about counterfeiting, Smithers says. Earlier this year, Avery Dennison acquired TexTrace with the aim of expanding the use of textile RFID labels that remain on garments for their entire lifetime, either as a sewn-on label or built into a product's seam, which provides embedded protection against product loss.
Overall, Smithers claims that the greatest potential will come from software systems that process product identities, with blockchain apparently emerging as an affordable, scalable platform that can offer security, transparency, and intelligent inventory management. The company adds that software companies are creating dedicated service lines to capitalise on this opportunity, and thus actively engaging with packaging and logistics company partners.
Additionally, paperboard is likely to account for the largest share of the track-and-trace packaging market going forward, Smithers says. The company attributes this again to trends associated with COVID-19, including the rise of e-commerce shipments, alongside the longer-term trend of pharmaceuticals adopting early trace-and-trace solutions.
Smithers concludes that there will also be strong demand for tracking components that can operate with other common formats, including metal, rigid plastic, flexible plastic, and paper substrates.