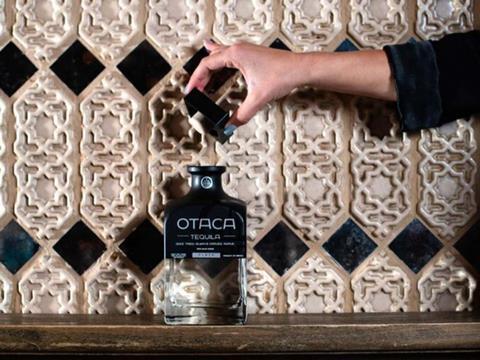 OTACA Tequila and Identiv have collaborated on a tequila bottle with an embedded NFC tag that allows consumers to authenticate the product and re-order with their smartphone. We spoke with Anthony Accetta, CEO and co-founder of OTACA Tequila, and Amir Khoshniyati, general manager and vice president of Transponder Business, about the NFC-enabled bottle.
Tag and tap
"[The] Identiv and OTACA collaboration is geared towards authentication and replenishment with the best-in-class smart packaging solutions," Accetta begins. Identiv's role, he adds, is to "provide a streamlined solution bringing a physical object to life with a digital identity."
Identiv, a security solutions company, "sits on an island [to] the side" of the wider RFID market with a "focus on specialty products", according to Khoshniyati. With smart packaging, Identiv offers customization and technology "designed around" the product –– in this case, Southern California's OTACA Tequila brand, which first launched in early 2021.
Khoshniyati explains the first iteration of the bottle featured an NFC tag "sitting on the lid of the tequila bottle itself", with "a white overlay that had black printing on it [with] text above and below where the antennae sat". Because consumers sometimes miss the presence of embedded NFC tags, "especially if the tag is smaller in size and you have less of a strike point", the original lid's text signaled for consumers to 'Scan your NFC device here'.
Consumers can then use any smartphone to 'tap' the NFC tag. The technology is "native to all phones today, even if you have a legacy iPhone version", with Khoshniyati noting that most smartphones feature an in-built NFC reader that connects with a web browser to provide the consumer with the desired information. "So it's app-less," Khoshniyati adds.
The tags themselves are "used for a few different purposes". Accetta tells us that experience of scanning the tag is geared towards "verification/product provenance, history of the brand, and ability to re-order".
For product verification, provenance, and history, Khoshniyati says that a scan of the NFC tag tells consumers "where [the tequila] came from, where it was distilled, how it went through its different distribution outlets and how it ended up on a certain shop floor".
"The last value point, which is pushing outside of verification, is replenishment –– being able to tap and then re-order," explains Khoshniyati. This is the intended "endgame" of the NFC-enabled bottle: a personalised re-order method that encourages the consumer to return again and again to the OTACA brand, and which also gives the company real-time consumer engagement data.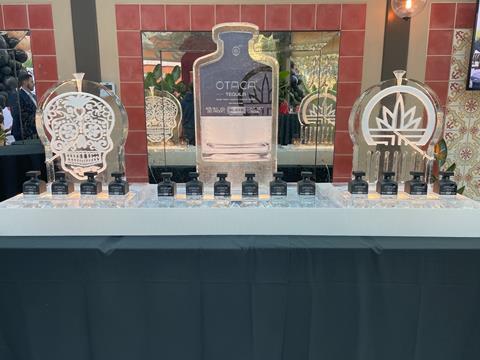 The value of consumer loyalty
"The fact that you can take your phone and engage with something means there's something that has triggered the user to actually interact with the product," Khoshniyati continues. "And [this] gives the brand the indication that the consumer is interested because they've opted in with the tap of their phone."
Similar to the subscription model, Khoshniyati says that this "methodology is staring to translate to more and more" applications. He gives the example of Amazon Alexa devices that allow consumers to re-order with a voice command or the press of a button. "We're seeing much of the same in retail –– more people are looking for more touchpoints –– so it follows the same workstream."
For consumers, this can mean building a relationship with a brand that feels "more personalised" than "unsolicited types of mail" from companies, like marketing emails. For brands like OTACA Tequila, this means "increasing the lifetime value of the consumer" and "in turn, decreasing the cost of acquisition of a new customer as a result of being able to rebrand and remarket to that specific customer.
According to Khoshniyati, "you might have hundreds, if not thousands, of different tequila brands out there, but if you have the same consumer tapping the same tequila bottle and replenishing their stock, you're breaking down the cost […] because they're re-ordering. They're not going to a competitor."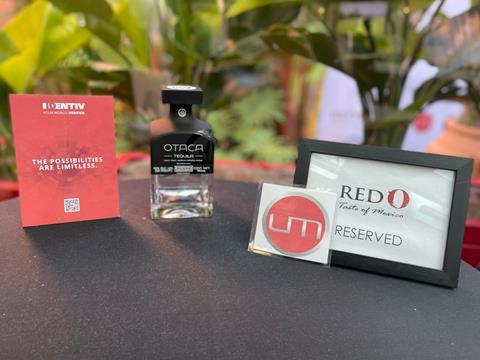 Expanding familiarity
Smart packaging is a "two-in-one experience: you pay for something and you can have an ongoing" relationship with the product and the brand. "More and more people are getting familiar with" the NFC technology, Khoshniyati claims, especially during the COVID-19 pandemic as contactless forms of payment have become commonplace.
However, "the downside right now is that it's just really starting in restaurants rather than the brand to consumer play". Khoshniyati notes that luxury brands like OTACA Tequila offer more opportunities to directly reach consumers with added value features than some of Identiv's other applications, such as pharmaceuticals, which leans more towards "brand to brand to consumer" pathways.
On moving the NFC-enabled tequila bottle from the restaurant into retail outlets and the home, Khoshniyati says ease of use will be key: "As people get closer to their brands, they want things to be easier".
In addition, the next generation of NFC-enabled OTACA Tequila bottle has taken on new design considerations in its bid to appeal to both new and returning consumers. The updated iteration features a "futuristic" design, with a "hologram design" and "glow in the dark" theme so that the NFC tag's location glows in settings such as bars, nightclubs, and parties.
"In this iteration, we wanted to make [the technology] as clear as possible so OTACA can brand themselves as a digitised bottle," Khoshniyati explains. "Then, as people adopt the methodology of tapping –– whether they're buying it at a liquor store or a restaurant –– they know exactly what to do."
The technology is therefore becoming embedded in OTACA Tequila's brand identity. At the launch party for the NFC-enabled bottle, Khoshniyati says that not only were people sampling the tequila, but also "talking about and engaging with the digitised product in itself". Therefore, he anticipates that "it's going to continue to [gain] traction".
What's next?
"We are the first tequila brand to roll this out and we hope this will give rise to many others across speciality liquors and wine/spirits," Accetta tell us. For OTACA Tequila specifically, the intention is to bring added "volume and closer brand connection to our many connoisseurs".
For Identiv, Khoshniyati claims that the company can "cookie cutter" the NFC model developed for the tequila bottle "across many different forms of business". Identiv is looking to continue customising and developing IoT solutions for speciality applications including other undisclosed wine and spirits brands, with "running engagements" currently in progress.