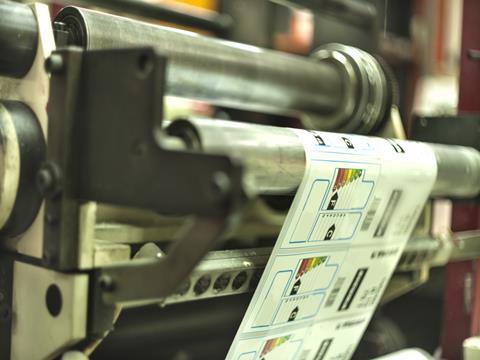 As the demand for labels and printed packaging increases, Smithers suggests in a new report that OEMs, ink suppliers and print service providers adjust their strategies following the impacts of sustainability efforts and COVID-19 on the packaging industry.
The data suggests that the global packaging print market, worth $456.3 billion in 2021, is set to increase to $473.7 billion – then grow by 3.1% annually to reach $551.3 billion in 2027.
Meanwhile, the worldwide printing of corrugated board, folding cartons, rigid and flexible plastics, metal, and labels stocks will purportedly increase from the equivalents of 13.0 trillion A4 prints to 15.4 trillion.
With a predicted CAGR of over 10% going into 2027, digital print for packaging is Smithers' most significant claim. It suggests that print service providers will receive plentiful R&D investment by digital OEMs, expected to improve productivity, reliability, and the price competition of digital printing with analogue production.
Flexography is set to remain the most widely used print process, Smithers claims, representing approximately 36% of the contemporary market thanks to its frequent use on corrugated board, labels, and flexible plastics work. It is anticipated to expand by +2.4% CAGR into 2027. Other analogue processes, including offset lithography, are also expected to see organic growth over the next five years with the involvement of developing markets.
Challenges that the packaging print industry is expected to face include the reduction of waste, optimising energy efficiency in print equipment, and accommodating for new and sustainable packaging substrates from flexible barrier papers to mono-material polymer constructions. New legislative requirements implemented to wean the market away from single-use plastics and improve recyclability are also thought to create obstacles.
Post-pandemic buying patterns are thought to require the reduction of turnaround times, implementation of print-on-demand business models, and the enabling of more economic short promotional and versioning commissions. On the other hand, the rise of e-commerce is said to provide a new range of opportunities for print technologies and business models to tailor print designs and graphics to home delivery customers.
Smithers also suggests that print supplies must become more 'resilient and agile' to disruption in the supply chain – for example, it identifies the practice of re-shoring or near-shoring production of essential FMCGs.
Digital printing technologies, particularly inkjet, are hoped to improve cost efficiency and streamline production, creating more low-run jobs. Industry 4.0 technologies can allegedly benefit both digital and analogue production by cutting down the need for skilled print room labour and improving the printing process overall, from the quality of the print to the consistency of production.
Smithers' report covers a wide range of packaging types, printing processes and end-use segments across a range of global countries.
In the same release, the company outlines the next steps for the packaging industry as it works towards sustainability.
A study published in July predicted a 5% yearly increase in the market for refillable and reusable products, set to reach $53.5 billion in 2027.