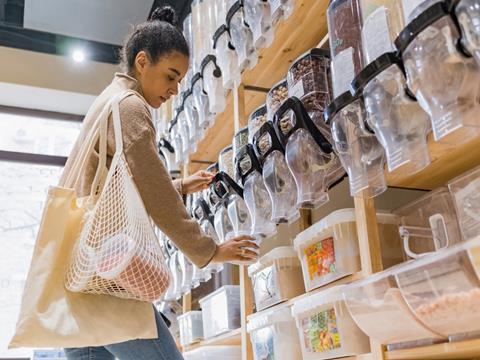 A recent study from Smithers has identified an expanding market for refillable and reusable products in the coming years, with the industry set to grow 5% year-on-year to reach a value of $53.5 billion in 2027 as new digital solutions and supply chain efficiencies begin to emerge.
The Future of Refillable and Reusable Packaging to 2027 calculates an increase in packaging sales for refillable and reusable products from an estimated $35.1 billion in 2017 to $42 billion in 2022, and a continual 5% growth every year to reach $53.5 billion in 2027.
Smithers finds that the reuse and refill business model is already prevalent in beverage retailing, especially concerning glass bottles – over 75% of all reuse refill packs are reportedly related to drinks. With The Coca-Cola Company pledging to make 25% of its drinks portfolio available in refillable or returnable glass or plastic packaging by 2030, it seems that major brand owners are looking to harness this increasingly established reuse segment.
However, Smithers says that sectors involving food, home care, cosmetics, and personal care remain in a nascent phase, and currently require more durable packaging that lasts through repeated uses in order to reach a greater scale. This is supported by recent research from Hubbub, which found that 26% of consumers surveyed were concerned about scratches, stains, or damage to reusable containers.
Smithers nonetheless predicts that these new segments could see growth in excess of 30% year-on-year up to 2027. The company attributes this largely to the rise in e-commerce subscription sales after the COVID-19 pandemic led the shift to more online retail. Hubbub's research also suggests that subscription models could provide a solution that meets consumer demand for low-cost and simple refill options.
According to Smithers, there are currently four distinct business models utilised by the reuse and refill industry.
The first is refill-at-home, whereby lightweight or concentrate refills are delivered by a mobile refill or subscription service to users' homes. A recently announced refill trial by the UK retailers Marks & Spencer, Morrisons, Ocado, Waitrose & Partners, and CHEP, which is set to launch later this year, will seemingly follow this model with bulk home deliveries planned to enable refillable solutions beyond the store setting. This also works in conjunction with return-from-home model, where packaging is recovered for reuse from a consumer's home by the scheme operator or a logistics company working under contact.
Another model, refill-in-store, would necessitate a shopper to take their reusable containers to an in-store dispenser and refill them, Smithers explains. Similarly, the company says that the return-in-store model functions as a deposit scheme, with users returning their packaging to a drop-off point or a store to receive their money back. These models have been used by retailers including Tesco as part of its reuse trial with Loop and ASDA via the reuse company, ReRe.
Smithers suggests that introducing new technologies to reuse and refill schemes could enhance the effectiveness of these packaging models. For instance, spending more on reuse concepts could apparently allow for the introduction of smart packaging. This could be used to help users find nearby refill locations and incentivise returns through software such as scheme-specific smartphone apps.
In addition, Smithers says that more efficient collection systems could be devised with track-and-trace. The company explains that this will give greater insight into packaging and waste flows, in turn facilitating more accurate mapping and collection of higher-value reusable packaging.
Smithers also notes that there is a limited deployment of refill locations for refill-in-store platforms and suggests that greater diversification of these will make them a more appealing option for customers. Immediate priorities are to develop mobile refill machinery and multi-product dispensers that can provide a range of SKUs comparable to those seen on supermarket shelves, according to Smithers.
Smithers adds that developing bottle cleaning technology will also increase the number of bottles recoverable for existing beverage retail systems, which could continue to boost this segment. The company puts forward solutions including automated, decentralised micro-cleaning facilities and more durable PET bottle constructions.
The company concludes that the rapid growth of the reusable and refillable sector is driven by innovative formats and the imperative to enact more sustainable business models. By rethinking packaging, retailers and brands can reportedly make visible commitments to cutting single-use plastic while also providing brand differentiation by engaging consumers with novel reuse systems.