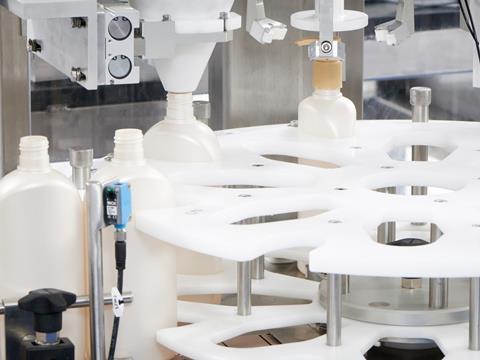 Shemesh Automation has developed its TKS-C60 complete robotics-enhanced bottling line for cosmetics products with the aim of reducing downtime, lowering expenses, and preventing the complexities of integrating machinery.
Designed to feed, fill, cap, label, case pack, and palletise 60 bottles per minute for cosmetic products of various shapes and sizes, the TKS-C6 aims to cover the entire packaging process and save manufacturers from integrating machinery from various suppliers into their packaging lines. It consists of three ABB Delta Robots for product unscrambling, multi-capping, and case packing, respectively, as well as an integrated advanced vision system.
The line features two lanes and is reportedly capable of packaging different products on the same line by setting up the requisite recipes through a smart HMI screen – a feature expected to improve flexibility. This is said to be compounded by its ability to identify screw caps, snap-on caps, pump/spray caps, and various other cap types of differing dimensions, alongside the potential to install pucks loaders and unloaders for shaped products.
Its linear feed, as opposed to a rotary one, is expected to smoothen the changeover and cleaning process, with fewer parts to navigate.
Features of the line include the automatic bottle unscrambler, ETNA, which uses an ABB/FANUC spider robot for bottle orientation and is said to be compatible with almost any bottle type commonly used in the cosmetics industry. With few exceptions, such as robot grippers, the robotic elements are not thought to require change parts to unscramble multiple different bottle shapes, which is expected to save operators' time and manufacturers' money.
Its STRATUM filling machine comes with double-servo driven pistons, which contribute to a reportedly accurate and versatile liquid filling solution – compatible with viscosities between 1 to 500,000 Centipoise to within +/- 0.25% of filling volume, says Shemesh.
Furthermore, its ATTILUS continuous motion capper comes with bottle tracking and a synchronised gantry two-axis robot based on encoders and servos, which can operate while in motion for optimised production time. Its integrated Siemens/AB PLC & HMI allow for simple programming and complete control on the part of the operator, according to the company.
The TKS-C60 is designed to handle corrosive products and flammable liquids, such as nail varnish remover, and Shemesh states that the line offers ATEX protection in explosive atmospheres.
"In developing the TKS-C60 we have poured years of engineering know-how into solving a genuine pain point for our cosmetics customers: The ability to efficiently pack multiple product types with one smart line," says Shai Shemesh, president of Shemesh Automation. "The TKS-C60 is a fantastic example of how the ability to source an end-to-end packaging solution, enhanced by the very latest robotic technology, from one trusted supplier can unlock major savings for our customers in both time and money."
Bottles for cosmetic products are growing in popularity within the packaging industry. The ALPLA Group's ultralight Canupak bottle made from recycled HDPE and, before that, The Estée Lauder Companies' 'industry first' recyclable paper bottle are two recent examples.
Back in 2018, the Marchesini Group took its packaging line for mascara and lip gloss to ALL4PACK in Paris, aiming to meet the growing demands of the beauty industry.