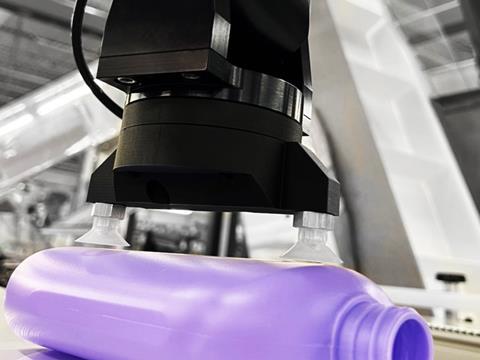 Omega Design's Automatic Robotic Unscrambler – intended to facilitate smarter sorting with a parallel-kinematic, multi-axis, pick-and-place robot module to separate, orient, and position bottles – will make its debut at Pack Expo Las Vegas 2023.
Omega Design's packaging machinery seeks to serve the pharmaceutical, nutraceutical, and consumer healthcare industries. The Automatic Robot Unscrambler is set to be applied to complex or multiple shapes of bottles, containers, tottles, jars, vials, jugs, and tubes and sort them onto a conveyor or into stabilising pucks.
Setup times are said to be reduced by the limited number of changeover points, while its integrated hopper lowers the machine's footprint, and the conveying system is designed for optimal robotic handling. Intelligent infeed metering control also reduces the recirculation of bottles, according to the company.
Omega Design's dual infeed system is also said to combine speed and accuracy by presenting two containers at once to the unit's robotic arms from a single hopper. This apparently optimises the movement of the arm and achieves throughputs that are 'unobtainable' when using conventional methods; it is also expected to minimise the machine's overall footprint.
The system can also be configured to meet various capacity needs and speeds; for example, hopper capacity can be increased, and additional robot modules can be added with the aim of speeding up the machine by up to 90 containers per minute per robot.
A user-friendly 15" touchscreen HMI, a Rockwell Automation Optix visualization platform, and an Allen Bradley integrated PLC have all been implemented into the machine, with rapid, repeatable pushbutton changeover with a limited number of change points aiming to reduce downtime between new product runs.
"Introducing a fully automatic robotics unscrambler applicable to a wide variety of containers aligns with our ongoing mission to produce equipment solutions that simplify processes through reduced labor requirements and intuitive operation," said Glenn Siegele, president of Omega Design Corporation. "Importantly, the machine also comes in a modular design that can be configured to meet the specific needs of every customer."
Shemesh Automation's automatic bottle unscrambler, ETNA, is featured in its TKS-C60 complete robotics-enhanced bottling line for cosmetics products. The line was later presented at interpack 2023 in the hopes of encouraging customers to source all integrated equipment from one supplier for cost, servicing, and environmental benefits.
Additionally, ABB's SWIFTI CRB 1300 industrial collaborative robot claims to enable an expanded load-handling of up to 11kg and offer palletising and pick-and-place features, amongst others.
If you liked this article, you might also enjoy:
The Lidl approach to packaging sustainability
How did Brazil achieve its 100% aluminium can recycling rate – and can it be replicated in the EU?
Experts have their say on the EU's Packaging and Packaging Waste Directive revisions
A deep dive into the most important packaging sustainability trends and solution