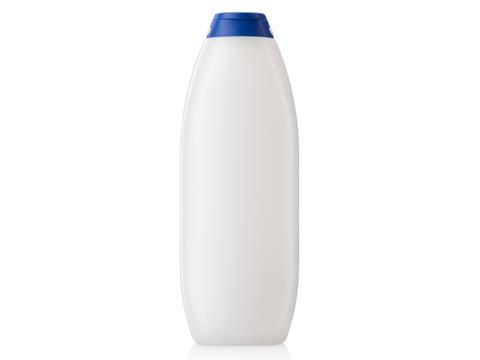 The ALPLA Group has manufactured a prototype of its ultralight Canupak bottle made of recycled HDPE; set to package beauty care products, it is hoped to reduce carbon emissions by approximately 71%.
ALPLA claims that the bottle results in less carbon consumption than other packaging types of its kind and weighs around 14 grams. The recycled HDPE is reportedly sourced from ALPLA plants within the EU and produced using renewable energies.
The company collaborated with ClimatePartner to calculate the carbon footprint of the packaging from production to disposal, clarifying that neither the package's contents nor the retail and use phases of its life cycle were considered relevant to the impact of the packaging. It is hoped that the solution will contribute towards ALPLA's goals of ensuring that all its packaging is fully recyclable by 2025 and that 25% of the material it processes will come from post-consumer recycling.
"We are gradually reducing carbon emissions and are expanding our expertise across the board of processes, from design and production through to logistics," says Karina Pölzl, innovation project manager at ALPLA. "The carbon-optimised Canupak is the next milestone on the path to the sustainable packaging of the future.
"We are focusing on further optimising our products and on maximum recyclability based on design for recycling, and are on the lookout for partners who wish to take the next step in reducing their carbon footprint together with us."
"There is increasing demand for sustainable products – among our customers as well as the end consumers," adds Philipp Legner, CEO at ALPLA. "Carbon-optimised packaging has a key part to play here. We already have the expertise and experience in producing future-oriented solutions."
The news comes after the Design4Circularity initiative – featuring Clariant, Siegwerk, Borealis, and Beiersdorf – developed a concept for a colourless bottle made of 100% post-consumer recyclate for personal care applications. Companies can print their branding onto a full-body shrink sleeve for design differentiation, the idea being that the labelling is deinked at end-of-life.
Avantium also signed an agreement with LVMH Group this summer to secure a fixed volume of plant-based and fully recyclable PEF for their cosmetics packaging, running trials with brands such as Parfums Christian Dior, Givenchy Parfums and Guerlain.