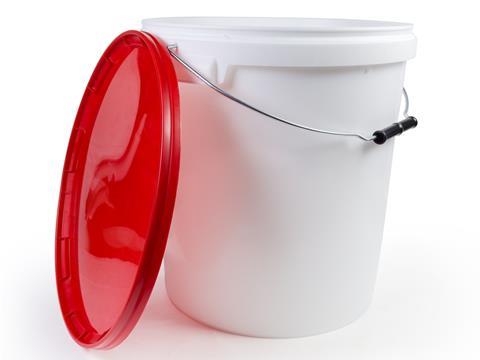 Beck Automation AG has launched the Beck Bailer, a self-operating system that is set to enable the fast and fully automatic assembly of metal handles for industrial plastic pails of up to 380mm x 450mm in size.
Its 3.5-second-per-bail cycle time aims to facilitate the quick assembly of metal handles for buckets with diameters between 175mm and 380mm and heights of 100mm to 450mm. As such, the system is compatible with round, rectangular, square, and oval bucket shapes, amongst others, with capacities between 2L and 40L.
Each bucket is fed individually via a conveyor belt, where it is positioned and aligned with the bracket hole; an additional, optional feature can also facilitate such positioning. A magazine then individually feeds and automatically separates the unshaped metal handles, which are subsequently provided with a handle roll.
The grip rolls can be fed into the system as bulk material via a spiral conveyor. Once the grip roll has been applied, the nubs are formed on the metal rod ends, which are bent at 90 degrees.
A forming plate and forming rollers create the desired handle shape, with operators able to move and position the shaping rollers through two servo axes. Furthermore, if necessary, the end position of the handle can be adjusted through the HMI while the system is running. Separate stations carry out the individual steps for shaping the handle in sequence.
The Beck Bailer's wear items are reportedly low in cost and can be replaced quickly and easily. Since it does not utilise hydraulics, Beck Automation claims that the solution does not cause maintenance issues like leaks and scrapped pails, as can apparently happen with its market competitors.
Nor does the conveyor require adjustment for pails of different sizes, as it has been designed to remain at a fixed height. The system runs on casters and can apparently be moved and positioned conveniently, while its wire bending movements are servo-driven and adjustable through HMI.
"The Beck Bailer sets a new industry standard by offering a highly flexible system that can run different size and shape pails with different types of handle designs," said Taras Konowal, vice president of sales and marketing for Beck Automation North America.
PakTech recently unveiled its CCA MicroPak can carrier applicator in an expansion of its handle applicator machine line. According to the company, it can handle up to 60 can handles per minute.
Shemesh Automation's TKS-C60 robotics-enhanced bottling line, meanwhile, claims to reduce downtime and expenses in the process of bottling cosmetic products while cutting out the complexities of integrating machinery.