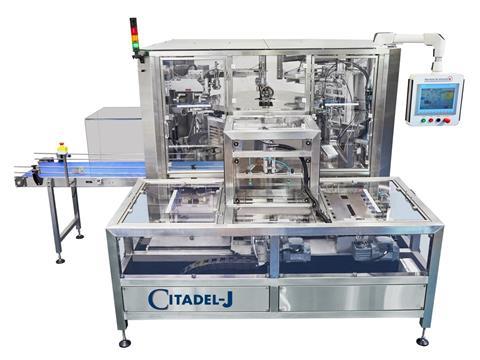 Shemesh Automation will debut two of its A-Z turnkey packaging line solutions at interpack 2023, encouraging customers to source all integrated equipment from one supplier for cost, servicing, and environmental benefits.
The Household & Chemical Liquid Bottling Turnkey Solution utilises robotics for the entire packaging process – including feeding, filling, capping, labelling, case packing, and palletising – for a range of cap shapes and sizes in various container applications. It aims to meet growing demand for entire packaging lines built by a single supplier.
The TKS-B100, meanwhile, is an uninterrupted bottling line for cleaning products and corrosive and flammable materials. It is said to operate at 100 bottles per minute and features both an integrated advanced vision system and, in a system utilised by automatic bottle unscrambler ETNA, multiple ABB Delta Robots for unscrambling purposes. Able to carry containers of up to one gallon in capacity, its typical throughput at one litre in size is 100ppm.
Also offering multi-capping and case packing, the TKS-B100 can apparently be combined with the ATTILUS capping machine with integrated robotics and an advanced vision system for higher speeds, enhanced accuracy, and greater flexibility for cap sorting and closing. In its own right, the ATTILUS can automatically differentiate between a trigger pump or a screw cap, according to Shemesh.
It can also handle a 45-degree angle bottleneck alongside shaped items that may not remain stable on the conveyor belt. The complete lines hope to offer swift changeover and programmable touchscreen recipes through its complete lines.
Additionally, the BuckIt TKS25 is a complete A-Z packaging line for liquid and solid products packaged in buckets. This machine is designed to provide automated feeding for buckets and bucket lids, apparently packaging up to 25 buckets per minute.
Continuous denesting machines featuring a servo-driven and interchangeable vertical carousel cartridge are anticipated to reduce downtime, while its FGW-J buckets filling and dosing machine and auger filler come into use for liquid and powder products, respectively.
A bucket lid fastener and the CAROLUS Bucket Labelling machine serve as complimentary technology – the latter claiming to be the first of its kind to be developed specifically for buckets. Its operations include a handle treatment mechanism and a proprietary precision orientation system, aiming to ensure the correct and consistent placement of labels on every single bucket.
End-of-line options such as the Relentless-J case packer and Apollon Palletizer complete the line, which is intended for applications in the food and beverage, pharmaceutical, and chemicals sectors. Additional modifications are available to facilitate the packaging of jumbo nonwoven wet wipes in buckets, with this version including the SAS-J Vertical Wipes Buckets Stuffer.
This stuffer draws upon existing technology to stuff round nonwoven rolls into buckets before the wetting phase – for which the FGW-J wipes line makes use of Shemesh's height-adjustable wide nozzles for completely homogenous wetting – but offers a smaller machine footprint while also claiming to optimise speed and accuracy.
The CITADEL range is designed for the complete packaging of wipes in flexible packs, featuring the 25ppm R model Monoblock bagger for round refill and consumer wipes – and the CITADEL-J, which stuffs jumbo-sized nonwoven rolls and fills them with a typical three to four litres of liquid, provides support beneath the bag, seals it, and ejects the finished product at reported speeds of up to fifteen packs per minute.
The latest CITADEL model, CITADEL-A, will be unveiled at the event. Reportedly, it can package both jumbo wipes (typically 600ct) and consumer-refill wipes (typically 300ct) in the same machine. Shemesh will also present ENCORE, a fully automatic, servo-driven, vertical monoblock flexible pouch-filling machine said to reach speeds of 60ppm. Its applications are set to include liquid and solid household products, food, and beverages.
"It brings our customers a significant competitive advantage when they can source every single component in an entire packaging line from a single innovative supplier like Shemesh," said Shai Shemesh, president of Shemesh Automation. "We've pioneered multiple developments in robotics technology and vision systems to make our machines faster, more efficient and more adaptable, which in turn improves our customers' productivity and speed to market. To the best of my knowledge, we're the only manufacturer in the world that can offer complete end-to-end solutions like this for multiple packaging applications."
ROTZINGER Group will display similar filling and capping machinery, alongside a feed placer, bar production line, and upgraded blister packaging machine at the event.
Baumüller's automated solutions for energy monitoring, machine simulation software, water-cooled servo motors, and a new generation of servo controllers will also be available to view at interpack.
Earlier this year, Shemesh Automation announced the development of its TKS-C60 complete robotics-enhanced bottling line for cosmetic products, with the machinery thought to reduce downtime, cost, and challenges in the integration of new machinery.
If you liked this article, you might also enjoy:
McDonald's Director of Sustainability in Europe on the company's approach to packaging sustainability
McKinsey on whether or not on-pack sustainability claims affect consumer spending
Perspectives from industry-leading experts on the EU's Packaging and Packaging Waste Directive revisions
A deep dive into the most important packaging sustainability trends and solutions