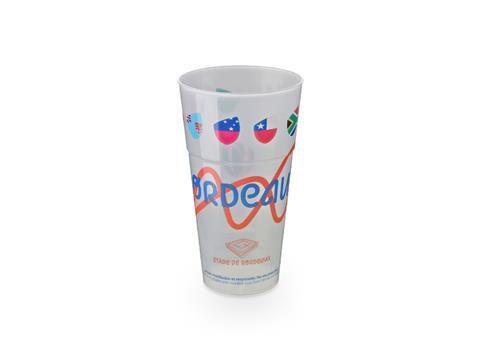 Berry Global, InfinyCup, and Stratus have teamed up to serve beverages in the reusable plastic SuperCup at the Rugby World Cup, aligning with France's ban on single-use plastic cups.
SuperCup is made from recyclable polypropylene and is apparently 30% lighter than standard reusable plastic beer cups on the market. It is dishwasher-safe for easy cleaning, and Berry emphasizes that this cleaning process does not impact the quality or feel of the cup.
An inner stacking rim also allows for several SuperCups to be stacked and enables efficient and neat storage.
For the purposes of the tournament, the Bordeaux and Lille stadiums have served beverages in customized, 'beer-like' SuperCups imprinted with the Rugby World Cup tournament logo.
"The SuperCup drinking cups are designed for practical use during the event, but now they have also become a collector's item for the attending rugby fans," explained Bruno Marconnet of InfinyCup. "Many of them take the cups home as souvenirs. Others take advantage of the option to return them to the stadium and cash in their deposit, in which case the cups will be washed and ready for the next game."
InfinyCup and Berry believe that their partnership underlines the importance of the event and food service industries working together to implement reusable plastic cups – thus reducing virgin plastic consumption and adhering to legislation that limits or prohibits single-use plastics.
The companies also emphasize the speed of the project's completion, as InfinyCup received a signed contract to supply the cups around four months before the beginning of the tournament.
Marconnet continued: "We required a partner capable of rapid customization and large-scale production. Berry fit the bill perfectly.
"After initial discussions, we established a sense of trust, and we visited their facility for further detailed talks. Trust proved to be the decisive factor that facilitated flawless collaboration and the punctual delivery of top-quality products.
"I hope we get the chance to work on another project with Berry sometime again soon. This was a big deal for our first outing, and it sets a great precedent for future collaboration."
Earlier this year, Barclays worked with CLUBZERØ to serve its customers free juice in reusable cups as they wait to enter the Wimbledon Grounds – a partnership expected to cut CO2 emissions in half and leave behind zero waste.
Wimbledon also worked with evian to install its first on-court refillable system for players, piloted during this year's Championships.
At the Erste Bank Open ATP 500 tennis tournament in Vienna, Coveris and Notpla are serving new cardboard takeaway boxes with a plant-based barrier coating.
If you liked this article, you might also enjoy:
The L'Oréal approach to packaging sustainability
What steps is Apple taking to make its packaging more sustainable?
How did Brazil achieve its 100% aluminium can recycling rate – and can it be replicated in the EU?
Experts have their say on the EU's Packaging and Packaging Waste Directive revisions
Also, if you're interested in packaging sustainability, you will want to attend our Sustainable Packaging Summit in Amsterdam on 14-15 November. The Summit brings together leaders and pioneers from across the industry to align strategically, learn, network, and create a critical mass to accelerate change. You can learn more by clicking here, and you can buy a ticket to attend here.