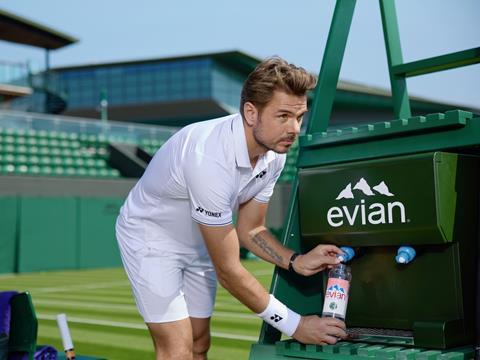 Water brand Evian and tennis tournament Wimbledon have announced their first on-court refillable system for players, to be piloted during this year's Championships.
The new refillable system aims to encourage refill behaviour on court, as players will be provided with their own reusable bottles that can be refilled with Evian water on-court and at designated player areas including practice courts, dressing rooms and restaurants.
Courts 2-18 will see an on-court dispenser positioned beneath the umpire chair during matches for players to refill their bottles themselves, alongside ball boys and girls, who will also be on hand to help refill on behalf of those competing. On Centre Court and No.1 Court, prefilled reusable bottles will be available to supplement the ones supplied to and brought onto court by players.
Off court, Evian's 75cl bottles apparently made from 100% recycled plastic (excluding caps and labels) and Evian sparkling in a 33cl recyclable aluminium can will be available to spectators.
Jen Emerton, head of account management at WRAP, said: "Showcasing a reuse and refill model to reduce single-use plastics on one of the world's most viewed sporting arenas is a great way to make refill the default option, and an active part of our everyday habits. Providing reusable bottles and refill facilities and using bottles in future tournaments will significantly cut the number used by players. This is a great step forward by a UK Plastics Pact member, and we hope to see this idea expanded across the entire tournament at future Wimbledon."
The Championships will be staged from Monday 3rd to Sunday 16th July, and the refillable solution will be used by players for the first time during practice week and throughout The Championships.
At last year's tournament Evian worked with Reward4Waste on the 'Return4Reward' project, where users could scan QR codes on recycling points and the barcode on Evian drinks containers and recycling for the opportunity to enter a draw to win tickets to the Wimbledon 2023 Women's Finals. In October last year Sainsbury's announced plans to implement Evian and re-universe's 'Return4Reward' digital reward scheme for recycling beverage packaging.
If you liked this article, you might also enjoy:
The Lidl approach to packaging sustainability
How did Brazil achieve its 100% aluminium can recycling rate – and can it be replicated in the EU?
Experts have their say on the EU's Packaging and Packaging Waste Directive revisions
A deep dive into the most important packaging sustainability trends and solutions