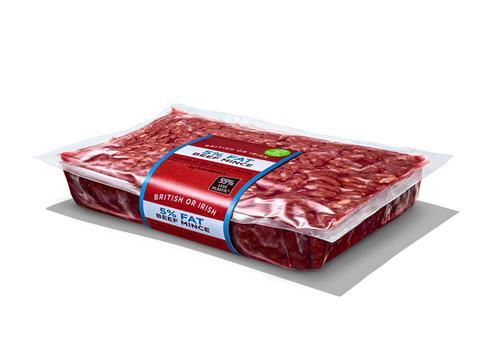 Sainsbury's decision to replace the tray packaging for its beef mince range with vacuum packs in a bid to reduce its usage of plastic by 450 tonnes annually has been met with negative feedback from its customer base - from both a functionality and a sustainability perspective.
When it announced the move in late February, the supermarket chain cited plastic reduction as a key motivator. At the time, its director of Product and Innovation, Claire Hughes, commented: "We know our customers expect us to be reducing the use of plastic across our products are and we're constantly looking for new ways to innovate to meet our Plan for Better plastic reduction targets."
However, a number of customers have taken to Twitter to complain about recyclability issues: the old packaging was mostly recyclable at kerbside, whereas the new packaging must be returned to the store in order to be recycled.
@sainsburys need a word with themselves...
The change of packaging on their mince means I can now longer recycle it, the meat has been vacuum packed, looks grey due to lack of oxygen and all texture removed from it in the process. Horrible. I shall buy from elsewhere in future. pic.twitter.com/sZqg1jOejW

— Claire Urmston (@RCUrmston) February 28, 2023
Hughes' claim that the new format would not impact the "quantity or great quality of product that our customers expect" has also been met with scepticism. The majority of the complaints concern the effect of the new pack on the texture of the mince – with some describing it as "vile" and comparing it to "dog food".
@sainsburys could do with rebranding their mince with the new packaging... '5% fat beef slab' or 'brick' would be more apt- I now have a RSI and my wooden spoon a flat end trying to break it up. pic.twitter.com/3IWOTLGaZk

— Ian Black (@isunshineblack) March 29, 2023
A key takeaway from this story is that many consumers care about and are engaging – very vocally – in the debate around recyclability.
However, all of this also goes to show that while consumer expectations for more sustainable packaging and plastic reduction remain high, so too do expectations around functionality and appearance.
This incident is yet another example of the challenges companies face on their journeys toward hitting their packaging sustainability goals. Consumers' willingness to accept trade-offs and compromises on functionality in exchange for potential sustainability gains still appears to be negligible – at least in this instance.
Sainsbury's new mince pack follows a wider push from the company which is clearly aimed at reducing its usage of packaging. Earlier this week, the retailer removed the single-use plastic trays from its whole chicken range, in a move anticipated to utilise a minimum of 50% less plastic. Its laundry detergent has also been given a revamp in recent times – transitioning from traditional sleeved plastic bottles to cardboard cartons.
If you liked this article, you might also enjoy:
McDonald's Director of Sustainability in Europe on the company's approach to packaging sustainability
McKinsey on whether or not on-pack sustainability claims affect consumer spending
Perspectives from industry-leading experts on the EU's Packaging and Packaging Waste Directive revisions
A deep dive into the most important packaging sustainability trends and solutions