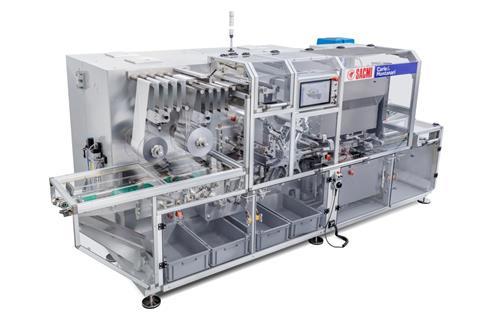 SACMI Packaging & Chocolate has announced the development of its HTB wrapping machine, said to be the fastest on the market and utilise a combination of electronics and mechanics to package 250 chocolate bars and tablets a minute.
The HTB is claimed to optimise time, pressure, and temperature in the sealing area to facilitate a 'continuous, adaptive flow' and match both the wrapping material itself and the characteristics of the product being packaged. This is thought to include new innovations in sustainable materials due to SACMI's 'new approach to machine design that looks beyond traditional mechanical sequences'.
The company also draws attention to the HTB's small footprint, on-board electrical panel, and options between traditional configuration and a left and right 'mirror' version – the latter expected to increase its versatility within existing lines. Its ergonomic design is thought to streamline the operator's tasks in the reel holder and blank magazine zones, amongst others, while its cantilevered framework prevents an excessive build-up of materials and residues for the purposes of easy cleaning and maintenance. The safety of the machine is apparently ensured by its large transparent guards.
Additionally, its short drive chain has been designed to reduce the number of mechanical parts subject to wear, a choice expected to lower maintenance requirements and strengthen each unit's operation. The belt system is reportedly easy to disassemble, with special guide units allowing for the unlocking of areas to be inspected.
SACMI asserts that the HTB's high productivity, fast changeovers, and user-friendly set-up and control result in a machine that is versatile and consistent in its quality. Advanced sensors keep track of the machine's consumption, working times, and efficiency indicators, and a maintenance predictive self-diagnostics kit is thought to warn the operator of any process drifts and contact any necessary assistance remotely.
The machine is expected to double-wrap bars with an inner wrap sealed on three sides and an outer wrap in either pre-cut cardboard or an envelope style using pre-cut paper or reels.
Last year, Theegarten-Pactec unveiled its CHS, a modular high-performance packaging machine for chocolate products with a newly integrated 'envelope fold' packaging type.
More recently, Sitma Machinery's E-Wrap made use of heat-sealable paper and scanning technologies to wrap products for e-commerce applications, while Mondi and EW Technology developed an automatic or semi-automatic paper pallet wrapping machine, making use of Mondi's Advantage StretchWrap solution.