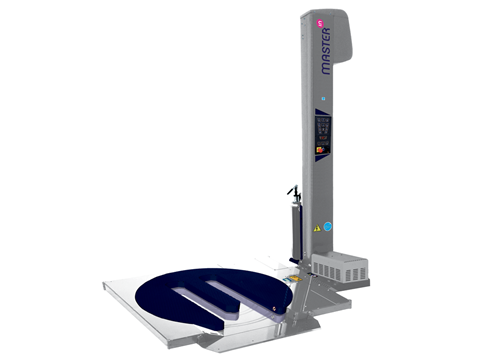 Antalis Packaging has added three new pallet stretch wrappers to its Master'in range, including a mobile machine; these solutions aim to provide for applications of all sizes and bring a greater variety of choices to the market at a range of price points.
The Master'in Access A-710 AS is a semi-automatic pallet stretch wrapper with a closed turntable, said to offer an 'economical alternative' to manual pallet stretch wrapping. The Master'in Performance P-710 AP reportedly offers powered pre-stretch of up to 240%, while the Performance P-710 AMW is a mobile solution designed to accommodate for pallets of all shapes, weights, and dimensions.
"These additions to our Master'in range mean we now offer customers a much broader choice of competitively priced products," says Stuart Bates, head of Automation & Systems at Antalis. "We're particularly excited about the mobile P-710 AMW 'robot' wrapper: in addition to being capable of wrapping oversized and/or unstable loads, it takes up less than half the space of a standard machine, making it a great option for operations with limited space.
"And for low-volume operations, the Master'in Access A-70 AS wrapper is an excellent entry-level solution."
Customers apparently receive a twelve-month warranty when purchasing a Master'in product and can pay extra for an additional two years' cover. All the machines and their spare parts are, according to Antalis, supported by the company's own team of installation, service and maintenance engineers and stocked in the UK in a bid to ensure fast delivery.
Mondi previously produced a new wrapping system for paper-based stretch wrap in collaboration with ACMI in 2021. It then proceeded to work alongside EW Technology to expand this Advantage StretchWrap solution by developing a new machine for automatic or semi-automatic pallet wrapping.
In another development for automated wrapping, SACMI Packaging & Chocolate's HTB wrapping machine has combined electronics and mechanics to package 250 chocolate bars and tablets a minute – said to make it the fastest machine of its kind on the market.