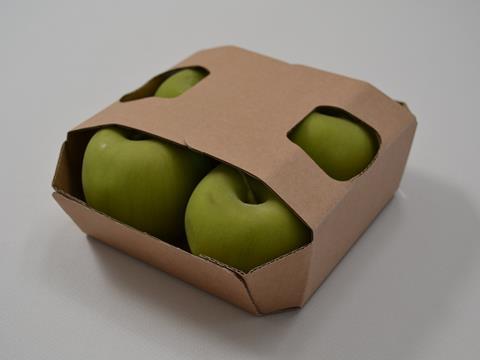 Xact has produced a closing machine for winged cartonboard punnets and an automatic taping machine for bunching loose products in its pursuit of reducing the overconsumption of plastic packaging for fresh produce.
The Rev Elephant claims to be the fastest machine of its kind on the market at speeds of up to 250 packs per minute. Other cartonboard-based solutions typically run at 80 packs per minute, according to Xact.
Food-grade hot melt glue is used to close the containers, while the machine prints variable information directly onto the punnet. An additional self-adhesive label can also be applied if desired.
The machine is designed for compatibility with various fresh produce and non-food packaging lines and both automated and manual loading. Its compact packing apparently protects delicate produce against damage and avoids empty space inside the packaging by fully optimising the container.
With one major UK retailer already said to have adopted the Rev Elephant – reportedly enabling the supermarket's transition from a plastic film/tray wrap combination to home-recyclable cartonboard in the packaging for one of its fresh produce ranges – Xact hopes to help the company pursue its 'ambitious' sustainability targets.
In turn, the potential rollout of the machine across various retailers is anticipated to cut millions of single-use plastics out of their supply chains every year.
Meanwhile, the Rev Condor automatic taping machine intends to reduce unnecessary packaging in the fresh produce sector. It is expected to tape 40-45 loose products per minute in an automated process that utilises a double independent taking mechanism and a dispenser capacity per channel of 620m (44 minutes working time).
It is thought to be compatible with elongated produce like leeks, celery, and courgettes, as well as round products such as melons, coconuts, and pineapples. Products like bananas are even thought to benefit from the taping method, as it allows them to ripen in their natural state and therefore preserves the quality of the fruit.
Suitable for tape made from polypropylene, paper, or compostable materials, as well as customised solutions to fit specific branding requirements, the Rev Condor intends to improve speed, reliability, flexibility, ease of use, intuitiveness, and sustainability in comparison to other packaging formats.
"Our Rev Elephant machine is a game-changer for the grocery industry," says Rachel Bastow, marketing manager at Xact. "Up to approximately three times faster than other solutions on the market, the machine enables retailers to meet demand both in terms of pack quantity and quality.
"We have a proud track record in helping food producers and retailers tackle complex problems and is it hugely rewarding to have helped one of the country's leading grocers deliver on its plastic reduction promise.
"These two new additions to our Rev range mark a significant step forward in the move towards making the UK grocery industry more sustainable. They are proof that fresh produce can be packed effectively, at speed, without affecting product quality and with a lower environmental impact.
"We are very much looking forward to partnering with more retailers to bring the benefits of these game-changing machines to the wider sector."
The development comes as the packaging industry explores various alternatives for conventional fruit and vegetable packaging. Mondi and ATS-Tanner's recyclable paper band for individually labelled products or bundles hopes to eliminate unnecessary plastic packaging for fruit and vegetables, as well as drinks and e-commerce deliveries.
Retailers Albert Heijn, ALDI, JUMBO, Lidl, and PLUS expect to save 126 million plastic bags and 10 million paper bags yearly with a pledge to roll out reusable bags in their stores, while Sirane's absorbent pad for fruit packaging has been approved for recycling in existing paper streams by OPRL.
Late last year, SACMI Packaging & Chocolate unveiled its HTB wrapping machine. Claiming to package 250 chocolate bars and tablets every minute, it claimed to have achieved the highest speed on the market.
If you liked this article, you might also enjoy:
The Lidl approach to packaging sustainability
How did Brazil achieve its 100% aluminium can recycling rate – and can it be replicated in the EU?
Experts have their say on the EU's Packaging and Packaging Waste Directive revisions
A deep dive into the most important packaging sustainability trends and solution