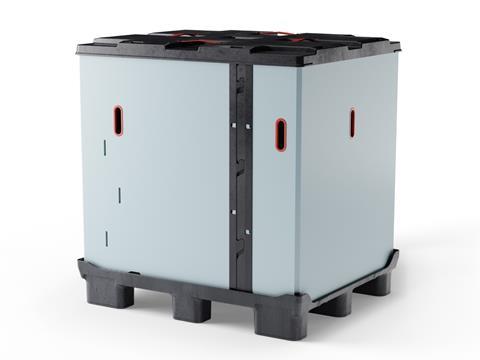 SABIC has worked alongside Cabka to launch a series of lightweight, flame-retardant, and reportedly recyclable polymer material solutions to produce the CabCube folding pallet box.
The companies have reportedly produced several high-performance polypropylene compounds, said to enhance processability, compression strength, and impact, as well as deliver a reduction in weight. In a first for SABIC's foam and lightweight portfolio, they are also thought to be flame-retardant, certified in accordance with UL94-V0 – in which the material is expected to stop burning within ten seconds – and halogen-free.
"SABIC offers more than 20 innovative foam and lightweight solutions enabling customers and partners across the entire value chain to overcome the challenges they face to meet consumer demand for smarter, more sustainable solutions," said Abdullah Al-Otaibi, ETP & Market Solution general manager at SABIC. "We are delighted to have been able to provide a lightweight solution for Cabka with superior material properties, enabling them to produce a cost-efficient, sustainable, and smart alternative to traditional metal/wooden cages for the transport of goods."
"Cabka has various CabCube designs, sizes and specifications, and their usage creates significant efficiencies in the supply chain for our customers," added Jean-Marc van Maren, chief product officer at Cabka. "With the support of SABIC, we have made these sustainable load carriers more reliable and safer than existing solutions on the market."
It is also claimed that the companies are working towards the incorporation of mechanically recycled content into their polyolefin compound solutions to assist their customers in the pursuit of their sustainability goals.
Additionally, plans are being made to replace 'one way' wooden pallets and cardboard octabins with lightweight and returnable plastic alternatives – an adjustment expected to originate at the SABIC compounding asset in Genk, Belgium.
In another effort to close the loop on polypropylene packaging solutions, Borealis and PACCOR previously designed mono-material lids and tubs for Froneri's Aino ice cream brand. The packaging is manufactured with ISCC PLUS certified renewable feedstock using a mass balance approach.
BMW Group also stated that its expanded polypropylene logistics packaging containers, adaptable to the components contained within them, currently contain around 25% recycled content – thought to save the company nearly 280 tons of CO2 every year.
MCC Verstraete's SealPPeel heat seal die-cut lidding innovation, set to allow polypropylene packaging to become fully mono-material, was the winner of the 2022 Sustainability Awards; SABIC's certified circular polypropylene cat food packaging was also nominated under the Driving the Circular Economy category.