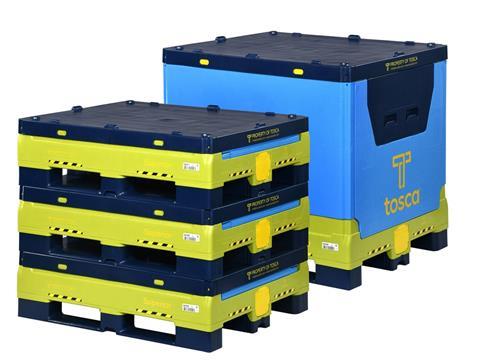 Tosca has launched a new life cycle analysis (LCA) tool aiming to reduce greenhouse gas emissions, and fossil fuel and water usage, in the transportation of bulk liquids by suggesting that companies switch to its foldable Intermediate Bulk Container (IBC) solutions.
Reportedly endorsed by the Sustainable Packaging Coalition, the tool utilises Trayak's Compass platform and analyses a company's use of fossil fuels and water and its greenhouse gas emissions with its current containers. These are compared to the same indicators in Tosca's reusable, foldable IBCs to provide LCA data on the cradle-to-grave impact of making the change.
According to Tosca, the data demonstrates the positive environmental impacts of the LBCs over competing load carriers, such as Schütz containers, stainless steel containers, steel drums, and nestable plastic drums. Foldable plastic IBCs are said to offer up to 61% greenhouse gas savings in long-distance deliveries compared to stainless steel containers, and an average use of 23% less water across all distances in comparison with Schütz containers.
Additionally, they claim to lower fossil fuel use by 17% in comparison with plastic drums. As such, Tosca states that its solutions reduce environmental impact 'in most cases', with 182 empty foldable IBCs thought to fit in a standard truck – a benefit that would replace more than three trucks needed to transport rigid bulk containers with similar capacity.
The company's entire range of reusable packaging solutions is implemented into a pooling model designed to share the containers between its customers. This expects to facilitate the reduction of waste and environmental impact while ensuring that high-quality, washed, and inspected reusable containers are in the right place at the right time.
"We are delighted to introduce this new tool to companies transporting bulk liquids. It will empower them to make informed decisions about the environmental impact of their packaging choices," said Karin Witton, global director of sustainability at Tosca. "By using the LCA data, companies can continuously search for ways to further reduce the environmental footprint at every stage of the life cycle."
EMEA president Dan Lee added: "We are proud to offer bulk liquid solutions that not only have a smaller environmental footprint but also provide superior performance and durability. Our LCA tool demonstrates our commitment to sustainability and our efforts to continuously improve the environmental impact of our products and solutions whilst also driving more efficient, higher performing supply chains."
Last year, Tosca provided its plastic pallets to Avery Dennison Label and Packaging Materials for the distribution of its materials, aiming to cut 800 tons of CO2 emissions out of the European supply chain every year.
In a similar development, Bradfords and Tarmac trialled the use of returnable LOOP pallets to move goods between their businesses and to certain customers.
If you liked this article, you might also enjoy:
McDonald's Director of Sustainability in Europe on the company's approach to packaging sustainability
McKinsey on whether or not on-pack sustainability claims affect consumer spending
Perspectives from industry-leading experts on the EU's Packaging and Packaging Waste Directive revisions
A deep dive into the most important packaging sustainability trends and solutions