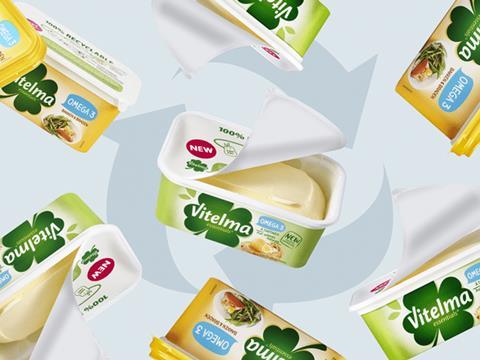 MCC Verstraete's SealPPeel product is a heat seal die-cut lidding innovation made from PP, which allows PP packs to become fully mono-material. The company and its partners tell us more about the product, which is a finalist in the Readers' Award category of our 2022 Sustainability Awards, in this interview.
You're a finalist in the Sustainability Awards 2022. Congratulations! To start off, could you summarise your entry in fewer than 50 words?
Thanks so much, we are thrilled to see that our SealPPeel is getting further recognition! As indeed it allowed Vandemoortele to switch to a full mono PP material packaging which drastically increases the chances of the packaging getting recycled into valuable rPP; while simultaneously increasing the shelf appeal thanks to superior print quality.
Why do you think the judges were impressed with your entry? Tell us about what is innovative about your project and/or about its impact on packaging sustainability.
We believe it is mainly the multitude of advantages without any disadvantage. Recyclability is of course our key USP; but we believe this nomination is also a recognition of the increased consumer experience as well as the look and feel of the packaging; without compromising on shelf life, safety and efficiency.
What is also very important; as that there is no need for a call to action to consumers; asking them to separate the packaging into different waste streams.
It is a very straightforward and effective solution to improve the recyclability indeed.
How has your innovation/initiative been received thus far?
Customers have in general been very enthusiastic about the innovation. Since retailers are putting more and more attention towards a sustainable portfolio, the proposal of a margarine tub fully designed for recycling is indeed an interesting one.
Additionally, they are happy to use the qualitative printing possibilities to clearly communicate the benefits of the new plastic seal. Even from end consumers, we have received positive feedback regarding the improved recyclability of the concept.
What do you see as the key demands, challenges and opportunities in relation to creating truly sustainable packaging?
Perception; without a doubt. Over the last years we saw a wave of anti-plastics lobbying; even though plastics remain the best packaging for many products, with the lowest possible impact on our climate.
It is hard to explain to people that plastics; if collected and recycled; are still a great and sustainable material for many products!
But we are getting there; people are ever better informed and educated; and understand that the packaging landscape is complex and requires a wide range of solutions.
The winners of this Sustainability Awards category will be announced at a dinner taking place at the Sustainable Packaging Summit in Lisbon on 13th-14th September 2022. To attend the ceremony, register here.