In our latest finalist interview, we speak to Sabic to find out more about a collaboration that uses the company's certified circular polypropylene for the SHEBA® cat food brand.
You're a finalist in the Sustainability Awards 2022. Congratulations! To start off, could you summarise your entry, Certified circular PP in cat food packaging, in less than 50 words?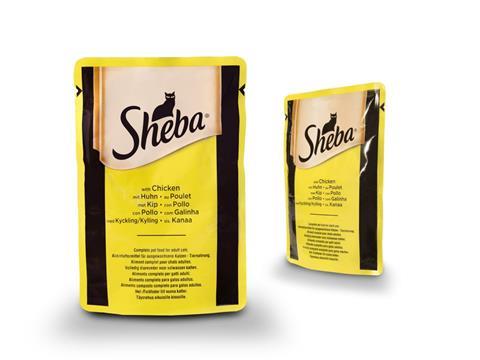 We have collaborated with Mars Petcare and Huhtamaki in pet food packaging using certified circular polypropylene (PP) from our TRUCIRCLE™ portfolio that is now used for innovative packaging solutions for the leading cat food SHEBA® brand. Mars Petcare, as part of Mars, Incorporated has adopted a flexible multi-layer film structure with certified circular impact copolymer from SABIC for retort pouches that are used in the packaging of wet pet food products for SHEBA®.
Why do you think the judges were impressed with your entry? Tell us about what is innovative about your project and/or about its impact on packaging sustainability.
The new wet pet food retort pouch solution is a proof of the partners' efforts to support a circular economy by incorporating advanced recycled content in pet food packaging. Over the past year, Mars has been closely working with SABIC, continually testing-and-learning and scaling up the recycled plastic content in their pet food pouches. As part of Mars' Sustainable in a Generation plan, they are committed to doing their part to help drive a circular economy, which includes redesigning their packages for circularity. The fact that Mars is now able to introduce recycled content into their SHEBA® pouches helps us accelerate their journey to achieve 30% average recycled content in their plastic packaging and to reduce by 25% their use of virgin plastic.
One of the most critical issues to overcome for the joint development team were the technical challenges involved in receiving approval for the complex new packaging structure. Wet food retort packaging is associated with demanding thermal processing conditions to ensure the highest food quality and help Mars Petcare achieve its purpose of creating a better world for pets. By using material from a recycled source under the International Sustainability & Carbon Certification (ISCC) PLUS program, it proved that under even the most challenging of packaging processed, recycled content can be safe and a reality for the future. The new packaging is also approved by a vigorous cat tasting tests with its great organoleptic properties.
When and how do you intend to launch/commercialize this innovation?
We have started working on this project back in 2019. Following a successful pilot phase in 2020, Mars started incorporate certified circular PP polymer from SABIC's TRUCIRCLE™ portfolio in the primary packaging of its popular pet food brand SHEBA® pouches beginning of this year. Products will be on market shelves from August 2022
You're shortlisted for the Driving the Circular Economy (Pre-Commercialized) category. What do you see as the key demands, challenges and opportunities when it comes to driving the circular economy?
Growing public awareness of the need to reduce environmental impacts will continue to open new possibilities across value chains towards circular economy applications. The circular economy inspires SABIC to adapt our processes to the use of renewable and recycled feedstock, and to create durable, recyclable product design solutions for our customers. We are leveraging bio-renewable, chemical upcycling technologies, and pre- and post-consumer mechanical recycling to deliver high performance materials with lower carbon footprints to optimize the use of resources and reduce waste. Through TRUCIRCLE™, we have deepened our commitment to the circular economy and developed a framework through which we rethink how we do business.
Our long-term relationships with our customers, supply chain partners, and industry peers place us in a strong position in the value chain, enabling us to collaborate with customers upstream and downstream to advance sustainable business practices in the plastics industry and beyond. We also align our work with government and policy sustainability objectives and take a collaborative approach to embed sustainability across our company, product portfolios, and global markets.
Winners will be announced at a special awards and networking dinner taking place the evening of the 14th of November during our 'Innovation Horizon' event. You can book tickets for the dinner and/or the conference, which reveals the cutting-edge sustainable packaging innovation that will be needed over the coming 5+ years, here.