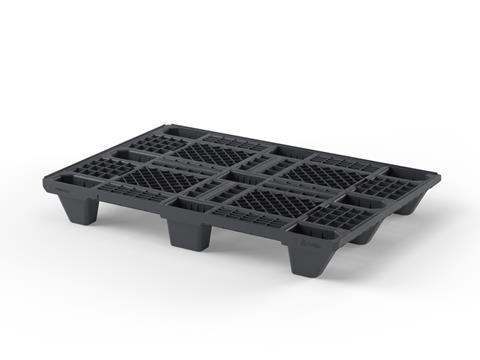 Cabka has developed the Retail E5.3 order picking pallet in a bid to provide reusable, circular transport packaging made of recycled plastics for the transportation of food products to stores with lower CO2 emissions.
Serving as an alternative to traditional wooden pallets, the Retail E5.3 is said to save up to 500 kilograms of dead weight per truck delivery due to its lighter design. Employees can reportedly carry the pallet on their backs without the safety risks of heavy wood, splinters, or nails; its improved rigidity in comparison to its predecessor enables it to carry loads of up to 2,400 kg, according to Cabka, and the pallet can also be fitted with different anti-slip grommets.
The pallet is available in Euro pallet dimensions of 1200 x 800 millimetres and, due to its smooth surface and bevelled edges, is apparently easier to keep clean than wooden alternatives. It also demands fewer repairs, thus allowing it to persevere through a greater number of circulations while also being easy to integrate into existing logistics processes.
Cabka states that the Retail E5.3 can lower customers' storage and transport costs through its volume-saving qualities, and comes with new optional edges to hold fruit, vegetable, and meat crates in place during transport. Furthermore, it does not require skids, and the company reportedly collects the pallets at end of life to recycle them into new ones.
"With our retail pallets, we have made logistics in food retailing more cost-efficient and sustainable," says Jean-Marc van Maren, chief product development officer at Cabka. "But never has the transport of goods been as safe and reliable as with the new Retail E5.3."
Cabka recently worked with SABIC to produce the CabCube folding pallet box using a series of lightweight, flame-retardant, and recyclable polymer material solutions.
Avery Dennison Label and Packaging Materials has also utilised Tosca's plastic pallets to distribute its materials with the aim of reducing 800 tons of CO2 emissions across its European supply chain every year.