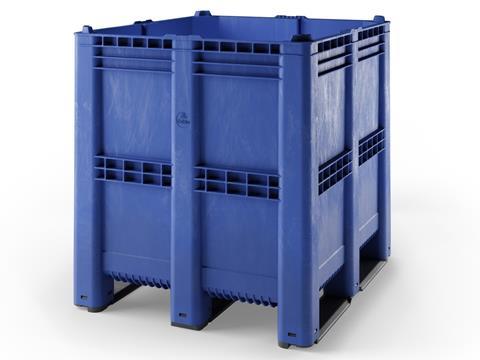 Cabka has revealed the Pallet Box 2.0, a plastic load carrier with a 1,400-litre volume designed for improved handling and increased durability in automated storage and high-volume logistics.
Reportedly, the Pallet Box 2.0 improves product security, with new stacking locators optimising the ease and safety of stacking the boxes. Its load carrier can apparently hold up to seven units in a warehouse and safely stack up to 7,000 kilograms.
In high-bay storage, up to 1,000 kilograms can be stacked, and during transport, up to 2,000 kilograms. It is expected to be compatible with both manual and automated handling, as it can apparently be tilted, turned, and rotated in all directions.
It can also be accessed from all four sides with a forklift truck, with eight rubber stoppers on the base of the box preventing it from slipping. The bottom of the carrier is built with a thicker wall in a bid to ensure high impact resistance, durability, and easy transportation.
Available in dimensions of 1,300 x 1,150 x 1,250 millimetres, the Pallet Box 2.0 comes with perforated or closed walls and, depending on the configuration, offers a tare weight of 70 to 77 kilograms. Customers can also choose between three and six runners and can opt in or out of applying a lid.
Last December, Cabka worked with SABIC to produce the CabCube folding pallet box from a series of lightweight, flame-retardant, and recyclable polymer material solutions.
The Retail E5.3 order picking pallet, announced earlier this year, is made of recycled plastics and aims to transport food products to stores in a circular system with lower CO2 emissions.
Meanwhile, The Last Box by Returnity is a reusable solution that aims to replace almost four million cardboard boxes in retailers' internal shipping and delivery operations this year.
If you liked this article, you might also enjoy:
McDonald's Director of Sustainability in Europe on the company's approach to packaging sustainability
McKinsey on whether or not on-pack sustainability claims affect consumer spending
Perspectives from industry-leading experts on the EU's Packaging and Packaging Waste Directive revisions
A deep dive into the most important packaging sustainability trends and solutions