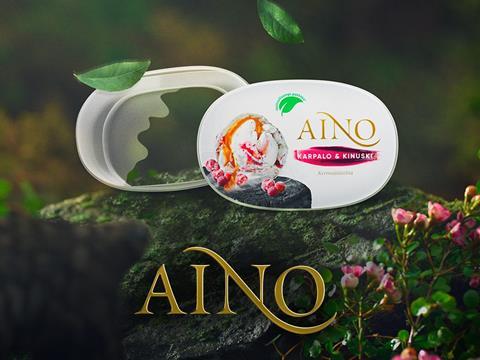 Borealis has partnered with PACCOR on mono-material polypropylene (PP) lids and tubs manufactured with ISCC PLUS certified renewable feedstock using a mass balance approach for the Froneri ice cream brand, Aino.
According to the companies, the new Aino ice cream tubs and lids are moulded in Borealis' Bornewables PP, which is reportedly made with renewable feedstock derived from second-generation bio-mass, waste and residue streams that are not competing with the human food chain. The feedstock is certified by mass balance accounting under the International Sustainability & Carbon Certification Plus (ISCC PLUS) scheme.
Borealis says that brand owners can also document the certified renewable content with a representative label or moulded-in information on the packaging. Additionally, Froneri claims it is the first ice cream company to receive the ISCC PLUS certification in the sensitive frozen food packaging market.
The new Aino ice cream packaging tubs and lids are injection moulded from Bornewables PP by PACCOR in an integrated process with in-mould labelling decoration. This apparently enables the mono-material packaging to be 100% recyclable, while also being durable, suitable for food contact, and providing protection during freezing.
In addition, the companies say that the bio-based PP can be used as an efficient drop-in solution without any further modifications to customers' manufacturing and packaging lines. The companies also claim that using certified renewable feedstock helps customers to reduce their carbon footprint.
Andrzej Olszewski, plant manager at PACCOR Bydgoszcz, explains: "By using renewable raw material, we have been able to substantially reduce our CO₂ emissions without changing the manufacturing process, which is a significant accomplishment and another important step being taken to reduce oil dependence within our group.
"In addition, compliance with the ISCC PLUS standard ensures complete transparency in production, maintaining high quality standards for our ice cream packaging products."
Peter Voortmans, global commercial director of consumer products at Borealis, adds: "Implemented within just 12 months from concept to market, the new Aino ice cream packaging is an excellent example of what can be achieved by collaboration to transform the plastics industry on its road to carbon neutrality.
"We are very proud about our contribution to the success of this joint project, which has once again confirmed the perfect fit of our Bornewables polymers in high-quality and high-performance packaging solutions."
Charlotta Lindberg, senior brand manager at Froneri, comments: "Sustainability is very important to us, with the core of it embedded in our local factory and production.
"At our ice cream factory in Turenki, we make continuous improvements and take practical actions both small and big to become more sustainable, for example by switching to renewable energy such as wind-based electricity, biogas and carbon-neutral heating. Furthermore, wherever possible, our packaging is Forest Stewardship Council (FSC) certified, and the cocoa used in our products is Rainforest Alliance certified."
Froneri concludes that it is planning to extend the use of the Bornewables polymers to further brands across Europe.
At K 2022, taking place from the 19th to the 26th of October 2022 in Düsseldorf, Germany, Borealis and Borouge will be in Hall 6 at Stand A43, where the new ice cream packaging solutions will be on display.