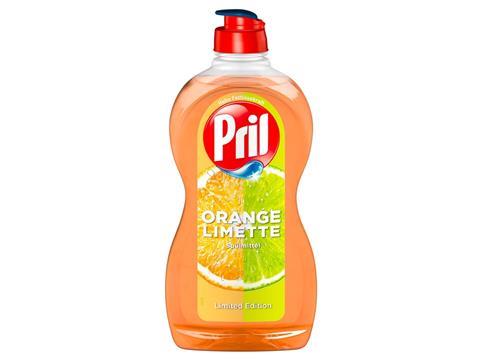 Henkel has rolled out a new design for its Pril Limited Edition dishwashing liquid brand to tie into the coming of spring. It is said to contain 100% recycled plastic, 50% of which apparently comes from Germany's 'yellow bag' collection system.
The yellow bag, or Gelbe Sack, is a plastic bag through which consumers can dispose of their plastic, metal, or composite material waste. This waste is then sorted mechanically at dedicated sorting plants under Germany's Dual System for waste management.
Henkel has been sourcing its recyclate from yellow bags to use in its packaging since 2022, with 50% of the recyclate used in its standard Pril bottles reported to have come from this system; the remaining 50% apparently came from recycled beverage bottles.
Between April and June 2023, the Orange & Limette (orange and lime) and Guave & Drachenfrucht (guava and dragon fruit) variants of Pril's Limited Edition line will be sold in the new packaging. These scents are marketed in line with the spring season and "[ensure] a spring-fresh rinsing experience."
ICA recently worked with Swedish Plastic Recycling to produce bottles containing 95% recycled plastic from collected and sorted household waste for its SKONA detergent brand. This collection and sorting process is set to take place at Swedish Plastic Recycling's €98 million Site Zero facility, which hopes to begin its operations this autumn.
Additionally, TotalEnergies and Ecolab's collaboration to incorporate post-consumer recyclate into primary plastic packaging for highly concentrated cleaning products has resulted in the launch of a plastic packaging range for heavy-use purposes.
Towards the end of last year, the ALPLA Group released a prototype of its ultralight Canupak bottle. Made from recycled HDPE, it aimed to reduce carbon emissions by around 71% and gain traction in beauty care product packaging.
If you liked this article, you might also enjoy:
McDonald's Director of Sustainability in Europe on the company's approach to packaging sustainability
McKinsey on whether or not on-pack sustainability claims affect consumer spending
Perspectives from industry-leading experts on the EU's Packaging and Packaging Waste Directive revisions
A deep dive into the most important packaging sustainability trends and solutions