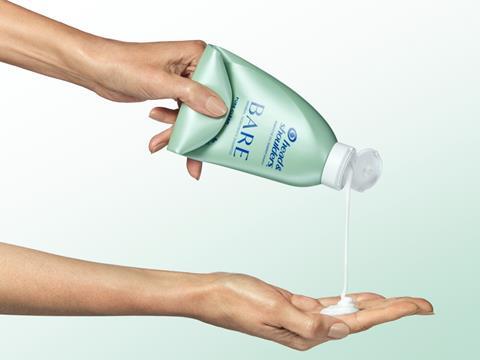 P&G brand Head & Shoulders' nine-ingredient anti-dandruff shampoo BARE is being packaged in a recyclable 'roll and squeeze' bottle, designed to enable consumers to use 'every last drop' of the product.
Apparently containing 45% less plastic per ml in comparison to the 370ml Head & Shoulders bottle, the packaging claims to be fully recyclable. It contains an anti-dandruff formula that is free of silicones, sulphates, and dyes.
Instead, the shampoo is made from zinc pyrithione (ZPT) to fight dandruff; sodium cocoyl isethionate for cleaning; lauramidopropyl betaine for creating lather; cellulosic polyquaternium to moisturise hair; acrylate to thicken the formula for ease of use; citric acid to balance the pH; fragrance for a pleasant smell; sodium benzoate to preserve freshness; and water to hold the formula together.
The product is designed to work for all hair types and appeal to growing consumer concerns regarding the contents and effectiveness of their anti-dandruff products.
"Millions of people suffer from dandruff, and many consumers are choosing minimalist products," says John Brownlee, senior vice president, NA Hair Care at P&G. "After years of research and seven pending patents, we are excited to offer Head & Shoulders BARE.
"Consumers can feel confident in a minimal ingredient solution – formula and bottle – that gets the job done with the trusted & proven dandruff protection that makes Head & Shoulders the #1 Dermatologist recommended brand."
BARE Pure Clean for an oily scalp and hair and BARE Soothing Hydration for a dry scalp and hair – offering coconut water and orchid and aloe scents, respectively – are currently available exclusively at Walmart.
Another step towards sustainability saw P&G package its Head & Shoulders, Pantene, Herbal Essences, and Aussie-brand shampoo and conditioner bars in recyclable, FSC-certified paper boxes. The bars themselves are said to offer a volume equivalent to two 250ml liquid bottles.
On that note, Artur Litarowicz from P&G Beauty and Nick Dormon from Echo spoke to Packaging Europe about the details to consider in the switch to waterless products like shampoo bars from both a brand and design perspective.
Developments in personal care packaging have also included the dissolvable solid shampoo created by Agency BBDO's Guerrero branch – designed in the shape of a bottle for familiarity while also displaying pro-sustainability messages – and Molton Brown's recycled, refillable aluminium bottle for its Bath & Shower Gel collection.
If you liked this article, you might also enjoy:
McDonald's Director of Sustainability in Europe on the company's approach to packaging sustainability
McKinsey on whether or not on-pack sustainability claims affect consumer spending
Perspectives from industry-leading experts on the EU's Packaging and Packaging Waste Directive revisions
A deep dive into the most important packaging sustainability trends and solutions