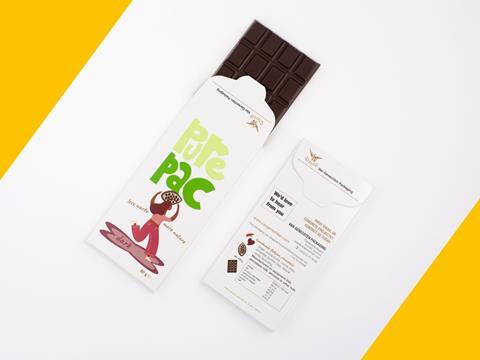 Van Genechten Packaging has developed a recyclable folding carton packaging for chocolate, PurePac, with an inside anti-grease barrier that it says eliminates the need for aluminium or plastic inner packaging.
According to the company, PurePac offers a certified fully recyclable carton for chocolate that eliminates the need for an inner wrapper made of aluminium, plastic, or alu/paper. PurePac is made from Standard FBB GC1/GC2, with an anti-grease barrier that reportedly protects the chocolate from contamination and keeps aromas inside.
Van Genechten Packaging claims that the production of 100 million PurePac would correspond with savings of 150,000 kilos of aluminium compared to traditional chocolate packaging.
In addition, the company says that PurePac enables optimal line and material efficiency, with the potential for companies to save up to €5 per 1,000 packs used. PurePac is reportedly a short ROI option for companies, with up to 200 production cycles per minute.
As for packaging design, Van Genechten Packaging offers a range of finishing techniques, including low-migration inks and decorative varnishes, as well as embellishments like hot and cold foil and embossing. The company says that it uses food safe colours and varnishes for printing on the packaging, both inside and outside.
Finally, PurePac can be easily opened and re-closed, according to the company, making "convenience more sustainable".
Van Genechten Packaging notes that there is strong demand for more sustainable and ethical chocolate, with consumers turning to Fairtrade products. However, the company adds that typical chocolate packaging is single-use and/or multi-material, which can make it difficult to recycle and does not fully meet the sustainability demands of the consumer – something PurePac is designed to address.
Balancing barrier functionality and recyclability is "indeed a challenge" for the confectionary packaging industry, acknowledged Katja Binder, head of packaging development at Ritter Sport, when speaking to Packaging Europe last year. Adding to this, the shelf-life and aroma performance of paper packaging for chocolate is still being tested by some companies.
However, both Stora Enso and Amcor have developed paper-based packaging for chocolate. Stora Enso's lightweight board for chocolate packaging is designed for a premium packaging experience while also being recyclable and reportedly allowing for a 70% reduction of CO2 emissions during production. Meanwhile, Amcor's paper-based packaging for snacks and confectionary allegedly has a fibre content exceeding 80% and offers a grease-resistant barrier; it is expected to appear in European stores in 2022.
Some confectionary companies are also aiming to boost sustainability by adding recycled content to existing plastic packaging. For example, Mondelēz brand Cadbury Dairy Milk is set to be made with packaging containing up to 30% recycled plastic in 2022. On a similar note, the Ferrero Group last year announced plans to transition its Ferrero Rocher chocolate range to a recyclable box developed in partnership with Milliken.