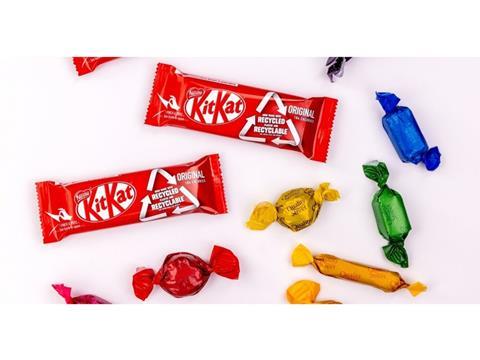 Nestlé's Quality Street line is set to adopt FSC-certified paper packaging for its twist-wrapped sweets, predicted to replace 2.5 billion individual foil and cellulose wrappers on an international scale. Meanwhile, its KitKat chocolate is set to be packaged in wrappers made from 80% plastic from this month onwards.
In a collaboration between Nestlé's Confectionery Research and Development Centre in the UK and the Swiss-based Nestlé Institute of Packaging Sciences, the change in packaging will cover Quality Street tubs, tins, cartons, and pouches. Although the Orange Crunch and Green Triangle flavours are set to remain in their existing packaging, as they can allegedly be recycled in their present, cellulose-free form, the other nine flavours are expected to be fully replaced in the coming year.
"With nine different sweets to consider, the transition has been a huge undertaking," said Louise Barrett, head of the Nestlé Confectionery Product Technology Centre. "Each of our existing machines need to be adapted to run paper and then rigorously tested by our packaging experts to ensure we're still delivering the same quality consumers expect when they open a box of Quality Street.
"We hope the fact that our famous sweets are now recyclable will make finding your own Quality Street favourites even more popular this year."
The switch is said to have required the engineering of new materials, coating technologies and printing techniques, alongside the adaptation of existing equipment. Nevertheless, Nestlé claims that its factory in Halifax, UK had supposedly achieved zero waste to landfill beforehand.
It is also said that the transition makes Quality Street Nestlé's second brand to adopt paper packaging, with Smarties reputedly embracing recyclable paper packaging across its global range last year.
While the repackaging of Quality Street is set into motion, the company is reportedly introducing wrappers made with 80% recycled plastic to its KitKat line. The new design can supposedly be recycled at over 5000 supermarkets throughout the UK and through household recycling in the Republic of Ireland.
Richard Watson, business executive officer at Nestlé Confectionary, said that "Nestlé Confectionery is taking a leadership position on packaging sustainability as we work towards reducing our use of virgin plastic by one third and making all our packaging recyclable or reusable within the next three years.
"The changes we are announcing today have been informed by detailed lifecycle assessments that have enabled us to identify solutions with a lower environmental impact than our current packaging."
Each of these changes are said to contribute to Nestlé's goal of reaching 100% recyclable packaging by 2025.
We previously spoke to Katja Binder, head of Packaging Development at Ritter Sport, about the company's trial to package its chocolate with paper, its pros and cons, and whether it is necessary to eradicate plastic packaging entirely.
Earlier this year, Van Genechten Packaging developed PurePac, a recyclable folding carton design with an anti-grease barrier. It was hoped to replace aluminium or plastic inner packaging and minimise waste. It followed Stora Enso's Performa Light, a lightweight board design implemented in 2020 to help the company reduce its carbon emissions.