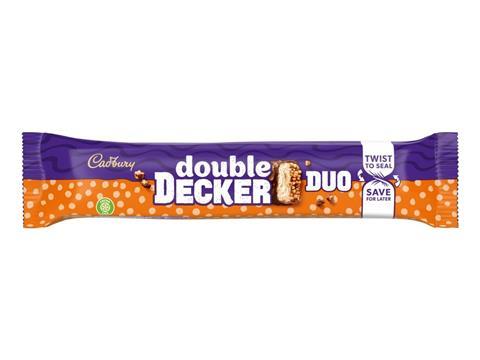 The Twist Wrap packaging solution for Cadbury, a Mondelēz International brand, allows consumers to twist and seal half of a chocolate bar from its Duos range to save for later, with the intention of encouraging reduced portions and more mindful snacking.
The new packaging users a memory technology solution to ensure that a single twist is enough to maintain the flavour, texture, and shape of the remaining half of the chocolate bar so it can be eaten later.
Cadbury Wispa, Cadbury Wispa Gold, Cadbury Boost, Cadbury Double Decker, and Cadbury Dairy Milk will all be sold in the new packaging, with the rollout expected to begin at the end of January 2022.
According to Mondelēz, the Cadbury Duo range makes up 24% of the so-called 'duo market', with the company adding that the majority of people who buy confectionary duos stick exclusively to that format. This reportedly makes it a "valuable offering" to retailers.
For Mondelēz, the new packaging is part of its commitment to promoting healthy lifestyle choices, with portion control apparently being a key way to help consumers balance calorie intake.
Kelly Lawrence, brand manager for Cadbury at Mondelēz International, comments: "Following good results during concept testing, we're excited to announce the new packaging this year, allowing shoppers to indulge in a sweet treat then easily reseal and save the remainder of the product for later. We've put a lot of time and investment into portionable packaging as a way of empowering consumers to snack in a more mindful way, and we are excited to see what shoppers think.
"Duos are the growth driver of singles, particularly in the independent convenience channel, so an important part of any retailer's chocolate range."
Last year, Mondelēz announced another change to its Cadbury packaging in the UK: its Dairy Milk range will be sold with packaging containing up to 30% recycled plastic. The latest Twist Wrap packaging development for Cadbury Duos represents what the company says is a category-first initiative.
Brands in other segments have also sought to balance health benefits with convenience via packaging. For example, in 2021, Danone launched its formula milk in pre-measured tabs and sachets to help parents cut down on time and mess when preparing formula while ensuring the correct portion size. In addition, the trend of using smart packaging to encourage consumers to lead healthier lifestyles appears to be gaining traction, with Tetra Pak and Appetite Creative collaborating on a scannable milk bottle with augmented reality that offers exercises and nutritional advice.