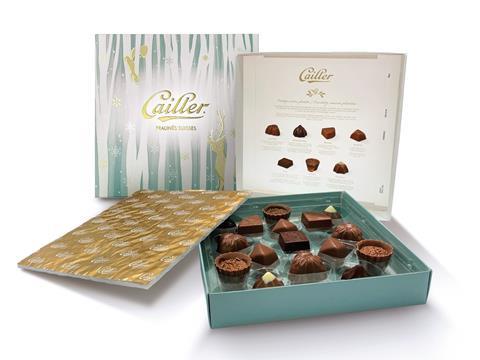 The Seymourpowell design agency has collaborated with the Swiss chocolate brand, Cailler, to redesign its Christmas pralines collection to attract a younger audience and incorporate recyclable elements.
Seymourpowell says that it has designed Cailler's praline range to feel relevant to younger consumers seeking a more "youthful personality" from the packaging of products they are buying for themselves or as gifts for others, while maintain the brand's "premium look and feel".
The design agency adds that it used a contemporary colour palette, including muted pastel tones, to "bring naivety and freshness" to Cailler's illustrated packaging. The new packaging also uses a combination of embossing, debossing, hot foils, and varnishes, apparently to make it appear "aspirational, charming, and giftable" to younger audiences.
Allison Spence, brand creative director at Seymourpowell, comments: "This new range evokes a sentiment of seasonal fantasy and wonder. Our goal was to elicit a playful and engaging view of the Cailler brand to bring to life the excitement of the festive season.
"Our story features the sparkle and magic of a snow-covered woodland. Peeping through the tall, elegant trees we catch a glimpse into the secret world of beautiful and inquisitive woodland creatures. We see a reindeer, head tilted as he looks curiously out at us. Above his head, amongst the branches, is a cheeky squirrel, racing down the trunk of a nearby tree."
The new packaging will reportedly feature a transparent recyclable chocolate tray, while Cailler claims its praline boxes were already recyclable. Research suggests that younger consumers are more concerned about the sustainability of packaging materials, with an Asda survey suggesting that 88% of people aged 22-28 would be willing to spend more for the sake of the environment.
Cailler is part of the Nestlé brand, which last year committed €1.68 million to reducing its use of virgin plastics and advancing a circular economy. This is part of the company's wider pledge to make all of its packaging recyclable or reusable by 2025.