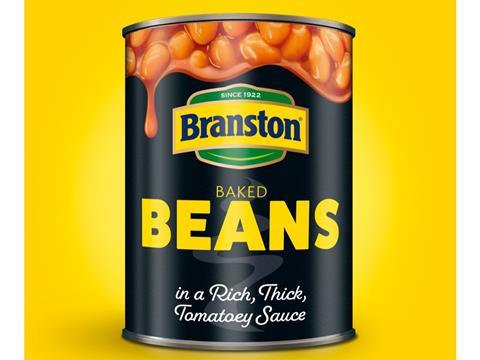 Princes Food Group has worked together with The Brand Nursery to redesign the packaging of its Branston Beans brand to appeal to intergenerational consumers and stand out on supermarket shelves.
The new design hopes to appeal to shoppers of all ages and backgrounds by modernising the brand and attracting new, younger customers without alienating current buyers. It also aims to improve brand recognition in comparison to other companies' baked beans packaging.
As such, its dark palette was chosen with the idea that consumers would associate it with a 'premium' product, with the typography and so-called 'dribbly beans' design intended to provide high contrast. It is claimed that London-based photographers laser cut templates and shot every Branston product in the same position to keep the 'dribble' consistent across stock keeping units.
After initially launching the redesign in August, Princes Food Group has announced that the new packaging is available across multiple UK-based supermarkets.
In another collaboration, Landor & Fitch worked with Kellogg's to redesign the packaging of its snack line to improve consistency and shelf appeal between its various products.
Echo also worked alongside Unilever-owned company Rexona to re-package its anti-perspirant and deodorant ranges with a focus on maintaining brand identity and improving communication efficacy with customers.