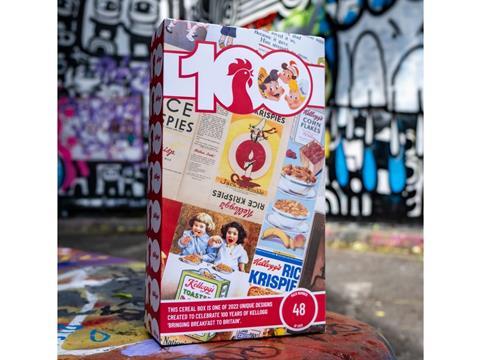 Kellogg's has partnered with Deldea Design, HP Indigo, and Precision Proco Group to design and digitally print limited-edition Corn Flakes cereal packaging in celebration of its 100th anniversary.
Utilising HP Indigo's 10000 digital press and SmartStream Mosaic software, it is claimed that a unique design has been printed on each of the 2,022 packs produced, replicating historical branding, packaging and adverts. These are thought to have been gifted to Kellogg's UK employees, and the company is reportedly planning to incorporate digital printing into its products going forward.
Steve Wardle, senior manager of Design Operations & Process at Kellogg Company, said: "This unique milestone in Kellogg's history was the ideal opportunity for us to demonstrate our creativity to produce a wonderful souvenir for our UK employees and to also learn even more about the power and capability of digital printing and the power of personalisation.
"We couldn't have brought this idea to life without the creative talent and expertise from Deldea Design, the team at Precision Proco, and the inspiration provided by HP who support brands with insights into a world of possibility with HP digital print and how to unleash it's potential."
Jose Gorbea, global head of Brands Sustainability and Innovation at HP, added: "Empowering brands to create memorable and engaging experiences through packaging co-creation is the result of building trust via marketing thought leadership, combined with our unique innovation services and a great partnership, such as Kellogg's. We are just at the very beginning of this journey and I'm looking forward to what comes next."
According to Dave Prezzano, UK & Ireland managing director, "HP's partnership with Kellogg's is a brilliant example of how digital printing and customised packaging can bring a brand's history to life. HP started its personalisation journey over ten years ago and since then has dug deeper into this megatrend, learning that personalisation can create a one-of-a-kind experience for consumers.
"I've loved seeing the limited-edition Corn Flakes boxes come to life, and it's brilliant to see how HP Indigo and Kellogg's have helped to celebrate this 100-year milestone."
Another collaboration between Kellogg's and Landor & Fitch saw the packaging for the Kellogg's snack range redesigned for increased brand block on supermarket shelves. Last year, the company decided to implement smart technology into its packaging to allow blind and visually-impaired shoppers to access the information through their smartphones.
More recently, Comexi unveiled its DigiFlex digital print solution, which is said to use low-migration inks to print directly onto food-safe packaging.