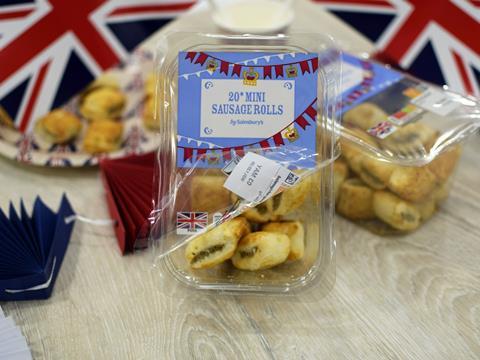 Parkside has worked alongside Sainsbury's and Compleat Food Group to release a special edition, recyclable pack of sausage rolls to celebrate the coronation of King Charles III.
Developed in honour of the King's involvement in environmentalist causes, the packaging utilises Parkside's ParkScribe technology; a self-adhesive peel-and-reseal opening is cut into the PE lidding film, which is, in turn, weld-sealed to a PE tray. This apparently makes the pack recyclable under OPRL guidelines.
The pack was developed in line with Parkside's Sustainable 7, or seven pillars of sustainability by which it designs and develops its packaging – these include reducing unnecessary virgin material use and weight, aiming for recyclability through the use of monopolymers, and designing packaging to reduce CO2 emissions throughout a product's supply chain.
"Everyone at Parkside is immensely proud to have played our part in this historic moment for the country," said Staci Bye, business unit manager at Parkside. "This packaging shows what is possible when you align with our Sustainable 7 principles and apply a little innovation.
"Our expertise and industry-leading technology meant that, when Compleat came to us with a project that required a very quick turnaround, we were able to deliver successful results."
"The sustainable requirements and very short lead time of this project meant it could have been a challenging one, but given our past relationship with Parkside, we felt comfortable the team could deliver what we needed," added Alexandra Maudsley, Group Artwork and Project manager at Compleat Food Group. "Thank you to every member of the team at Parkside who supported this project – their expertise and passion for sustainable packaging was invaluable."
In collaboration with Deldea Design, HP Indigo, and Precision Proco Group, Kellogg's unveiled a limited-edition pack to celebrate the 100th anniversary of its Corn Flakes cereal last November.
Mars Wrigley also redesigned the packaging of its Celebrations chocolates with the aim of enticing customers to purchase the brand all year round instead of limiting their spending to Christmas.
In March this year, Pepsi celebrated its own 125th anniversary with a new logo and packaging – the first update to its visual branding in fourteen years – alongside the development of other physical and digital touchpoints.
If you liked this article, you might also enjoy:
McDonald's Director of Sustainability in Europe on the company's approach to packaging sustainability
McKinsey on whether or not on-pack sustainability claims affect consumer spending
Perspectives from industry-leading experts on the EU's Packaging and Packaging Waste Directive revisions
A deep dive into the most important packaging sustainability trends and solutions