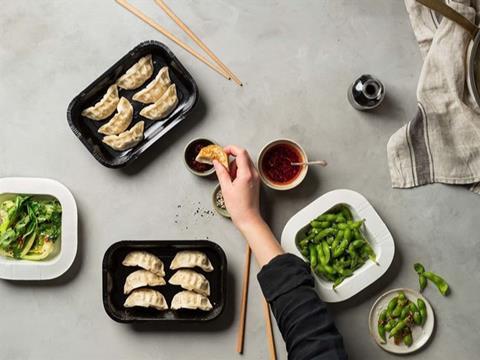 Holmen Iggesund has developed Inverform PET 30, a 30-gsm version of its fibre-based, PET-coated ready-made meal trays thought to cut over 25% of plastic content compared to its previous design.
Designed to replace trays made entirely from fossil-based plastic, Inverform PET 30 claims to offer the same functional advantages while constituting traceable wood fibres sourced from sustainably managed forests. As such, it is thought to offer a 'significantly lower' carbon footprint and improve recyclability.
Its PET coating apparently provides resistance against extreme temperatures – making the pack compatible with microwaves and conventional ovens and preparing it to store chilled and frozen foods. It also serves as a barrier against oxygen, fat, and moisture.
Additionally, Holmen Iggesund reports that the PET barrier is highly sealable and brings a glossy finish to the reverse side, improving surface characteristics. Customers can choose between black, white, and transparent versions of the coating.
Although Holmen Iggesund's PET-coated trays have previously been sold in a 40 gsm format, the 30 gsm version has been created based on customer input and work undertaken at the company's Research and Development centre. The coating is compatible with the company's Inverform paperboard products and, in some cases, apparently results in a material ratio of 10% plastic and 90% fibre.
"Our new PET 30 gsm product enables food packaging that has the required temperature resistance and fat and moisture barrier, but with a very low plastic content," says Malin Ekroos, product manager Added Value at Holmen Iggesund. "We created this product in line with our ambition to decrease the use of plastic in packaging. This is something consumers want to see, as well as brands, and we can contribute to that change.
"Our new product has the lowest plastic content of any comparable extrusion-coated PET product currently on the market. The launch of the new Holmen Iggesund PET 30 product is part of our product development process.
"It is a good step forward in our journey to provide our customers with increasingly sustainable alternatives, a journey we will continue through more and more product innovation."
A similar development saw Sabert Corporation Europe unveil its Snap2Go tray, designed for chilled meals and food-to-go outlets. It features an FSC-certified paperboard base and rPET clip-lid made from post-consumer PET flake bottles.
Bidfood Catering Supplies is also distributing Notpla's seaweed-coated takeaway food boxes amongst its customers in a bid to lower the volume of single-use plastics used in food delivery; and recovered and recycled plastic food trays are being recycled back into trays for chilled ready meal packaging in Tesco and Faerch's PET recycling initiative.
If you liked this article, you might also enjoy:
McDonald's Director of Sustainability in Europe on the company's approach to packaging sustainability
McKinsey on whether or not on-pack sustainability claims affect consumer spending
Perspectives from industry-leading experts on the EU's Packaging and Packaging Waste Directive revisions
A deep dive into the most important packaging sustainability trends and solutions